Parkrose to host first Jim Pepper Music Festival
Tribute to great jazz and Native culture
Lee Perlman | 8/1/2013, 12:22 p.m.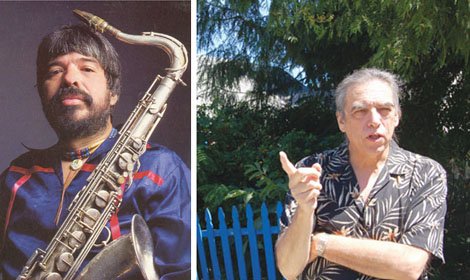 It started as a fan's appreciation for a late Portland jazz musician, but it has grown into a celebration not only of Jim Pepper's Native ethnic heritage, but of a broader multi culturalism for the Portland area.
Parkrose High School will host the first annual Jim Pepper Native Arts and Music Festival from Wednesday, Aug. 7 through Friday, Aug. 10.
In doing so it will provide four days of great jazz, and it will pay tribute to a great artist but relatively unknown Oregon native and Native American son.
Pepper was a jazz, rock and fusion saxophonist, and by his fans' estimates he was one of the greatest tenor sax players in the history of the instrument. He was also one of the first Native American musicians to incorporate his ethnic heritage into his music; his composition, The Four Winds, was performed by the Brooklyn Philharmonic Orchestra and the Cologne Symphony Orchestra.
Pepper will be at the event in spirit if not flesh. There will be a reunion performance of his band, the Free Spirits, with guitarists Larry Coryell and Columbus Chip Baker, bassist Chris Hills and Moses. There will also be a rare audio tape of Pepper, and a showing of the documentary Pepper's Powwow by Sandra Sunrising Osawa. And there will be other performers.
The festival is about much more than Pepper, from noon to 6 p.m. each day there will be free music performances featuring local, regional and student musicians. Among those scheduled to play are Joy Harjo and the Arrow Dynamics Band, the Pura Fe Quartet, the Keim Secole Band, John Trudell and Bad Dog, the Gabriel Ayala Trio, and Jan Michael Looking Wolf, all of Native-American background. Also part of the entertainment will be Peruvian dancer Luciana Proano and Native-American story tellers.
Another feature will be the free exhibit "IndiVisible: African-Native American Lives in the Americas," a traveling show courtesy of the Smithsonian's National Museum of the American Indian and the National Museum of African-American History.
The Parkrose setting is not an accident; the community provided the Pepper family home for more than 50 years. Born in Salem, the family moved to Vanport, the former Portland area city that once housed World War II ship building workers, and, like many other families, found itself homeless following the Columbia River flood of 1948. The family then moved to Parkrose, and Jim Pepper lived there until his death in 1992.
Chief event organizer Sean Cruz, who once served as an aide to former State Sen. Avel Gordly, first heard Pepper at a Bay Area jazz festival in the 1970s, and became a hard-core fan at a Pepper Powwow music festival at Portland State University in 2005. There he learned that the house he bought in Parkrose in 2002 had been the Pepper family home.
"His mom came by and gave me one of his cd's, which very few people have heard because it was out of print," Cruz said. "I promised her I'd get him the recognition he deserved."
Among the many recruits to the Native Arts Festival cause was Dr. Karen Fischer-Gray, superintendent of the Parkrose School District, who offered her facilities free of charge.
Parkrose High School it is a fitting place to celebrate multi-culturalism; students come from homes where 50 different languages are spoken.
"None of those languages are indigenous to the North American continent," Cruz says. "That's a cultural tradition we want to revive and celebrate, and this is a start."
Evening concerts during the festival run $25. To buy tickets and for a complete concert schedule, visit jimpepperfest.net.