A Lasting Impact
Algie Gatewood's charm and success will be missed
James G. Hill | 8/7/2013, 12:56 p.m.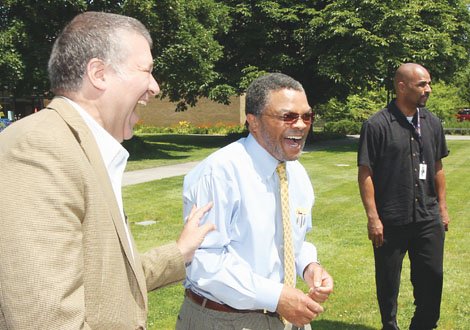 In 2006, in response to the crime and livability issues that troubled the neighborhood around Cascade Campus, Gatewood reached out to residents, businesses, and organizations in the area to form the Albina-Killingsworth Safe Neighborhood Commission.
The commission worked to implement common-sense solutions to the problems facing the community and, with strong support from the Portland Police Bureau, managed to achieve a 27-percent reduction in violent crime compared to the area's five-year average.
The commission's work was recently honored with a Commendation Medal from the Portland Police Bureau as well as a Crime Prevention Project Award from the City of Portland's Office of Neighborhood Involvement.
In 2007, Gatewood led the effort to rename the Cascade Campus Skill Center for former State Sen. Margaret Carter, a longtime African-American leader in north and northeast Portland.
The Skill Center has helped hundreds of people from disadvantaged or underrepresented backgrounds to gain the skills they need to find living-wage jobs. Two years later, he led the charge to rechristen the campus building where the Skill Center is housed as the Senator Margaret Carter Technology Education Building.
In addition, Gatewood opened the Weekend College in 2007, which offered an assortment of classes scheduled exclusively on weekends for people who desired to improve their job skills, earn a degree and further their education, but who may not have time during the week due to family or job obligations.
Gatewood established Oregon's first annual Financial Aid Day, and under his leadership, PCC significantly increased its support for the Cascade Festival of African Films, one of the largest African film festivals in the nation and Cascade Campus' flagship annual event.
"It is humbling to look back at how much our campus and community have changed in such a short span of time," Gatewood said.
"Our enrollment has grown beyond anyone's expectations, in part because we have evolved to offer our students more options, and serve them better, than we ever have before," he added. "We have deepened and strengthened our connection to our community, and – through the Middle College partnership with Jefferson High School – have created the means to bring about a profound change to this neighborhood which will be felt for generations. And with the construction of our new buildings, which seem to rise higher and higher every day, we are becoming even more the educational, social, and economic hub of our community."
James G. Hill is a communications specialist for Portland Community College.