In Loving Memory
Charles Edward Lawrence
8/7/2013, 12:35 p.m.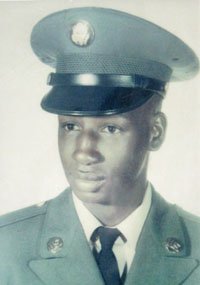 Charles Edward Lawrence (Ed) was born December 10, 1946 to the late Viola Lawrence-Moore and the late Clarence Smith in Portland, OR. He was raised by his mother and father, Julius Moore. He attended Boise Elementary School and graduated from Grant High School in 1964. While in school, Ed was a member of the Safety Patrol team and he took this job seriously.
While small in stature he was not one to be messed with. He boxed at Knott Street Community Center (now Matt Dishman Community Center), and at Montavilla Community Center he became a golden glove boxer. His boxing took him to boxing matches throughout Oregon, Washington, Idaho. He was counted with the best and boxed with Thad Spencer, Jody Harris, Ray Lampkin, John Howard, Tommy Jacobs and many others. In 1965 he volunteered for the draft. The reason he volunteered was so that his brothers wouldn't be drafted and so he could fight for their country. He fought in the Vietnam War, 101st Infantry Air Borne Screaming Eagles, where he was a jumper. He would parachute into the enemy territory and he was very proud of this. While in the army he continued his boxing career. He was honorably discharged in 1968. He became an Electronic Specialist and welder. He worked for the Hoyt Hotel, Hyster, and Gunderson and later went on to follow in his father's path to become longshoremen. Ed and his brother Jerry decided to try their hand at starting two businesses, Lawrence General Contractors and a janitorial business, both of which closed.
Charles grew up in the church. He was a member at Mt. Sinai Baptist Community Church under the late Rev. Chester Cheeks and Rev. Leonard L. Ranson, where he gave his life to the Lord. His grandparents and great grandparents were Ministers, Deacons, Deaconess and Masons too. He loved to read, you could always find him with a book, and he loved to spend time with his granddaughter Nevaha Greely. Nevaha and PawPaw Ed would eat cookies and he would educate her as a grandfather would. His great passion was history, you could ask him just about anything in history and he had an answer for you if he didn't, give him some time and he would get back to you with an answer. He loved to challenge you about the word of God and what he had learned from the bible.
He was married twice before meeting his current wife of 31 years Reva Grier-Lawrence.


Our beloved Ed is survived by his wife Reva Mae; father, Julius Moore; siblings, Robert of Houston,TX, Jerry, Ruby Lee "Nunu" (William "Heavy"), Barbara Harry-Bell, Julius Moore Jr., Rena' (Carland), Lolita, Oscar, Calvin, and Larry Casey all of Portland, OR; Aunt Georgia Maxine Payton of Sacramento,CA; children, Dena (James), Sharon, Charles Edward Jr. (Diana), David, Cleo "Tony"(Melody), Troy, Ronnie, Catrina, Tamiko, Edward "Eddie"(Sarah), Tarana, Julian, Brent, Andrea Candice Lawrence, Vanessia Crawford, Laverne Ballard, and Earl "Dino" Grier (Sherri); 38 grandchildren; 12 great grandchildren; and a host of nieces, nephews and cousins.
He is preceeded in death by his mother, Viola Moore; father, Clarence Smith; Grandparents, Jennie and Herman Jones and George Lawrence; and son Brian Ballard.