'Moda Health' Wins Arena Naming Rights
Rose Garden name goes away for sponsorship deal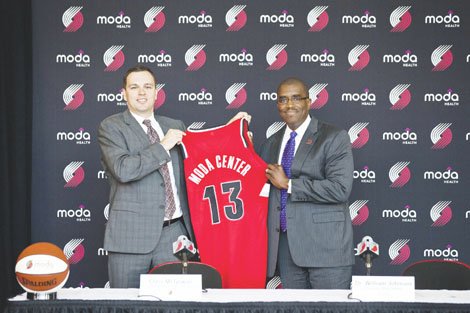 The Portland Trail Blazers and Moda Health have unveiled a community partnership that changes the name of the Rose Garden to "the Moda Center at the Rose Quarter," effective immediately.
Moda Health, formerly ODS Health, is a retail health insurance company headquartered in Portland and serves customers in Oregon, Washington and Alaska.
The arena's 10-year sponsorship agreement was jointly announced Tuesday during a news conference. No financial terms were revealed, but sponsorships are known to add millions of dollars to sports franchises. At the request of Trail Blazers owner Paul Allen, the new logo for the Moda Center, when unveiled at a later date, will incorporate a rose as a salute to the city of Portland.
"These are the types of large-scale partnerships that are going to take our organization to the next level," said Chris McGowan, Trail Blazers president and chief executive officer. "This agreement enables us to reinvest in the company and the team at levels that impact every aspect of the fan experience, including the facilities, amenities, events and even the product on the court."

Physical transformation of the arena and Rose Quarter will begin immediately, with new signage and other visual elements being added gradually, officials said. New graphics for the home court surface of the Trail Blazers are scheduled to debut in time for the team's regular season home opener on Nov. 2 versus the defending Western Conference Champion San Antonio Spurs.
"Since our company was founded in 1955, we've invested in projects that create healthy people and healthy places," said Dr. William Johnson, president of Moda Health. "This partnership reaffirms our commitment to this community as we invite people now to join us in creating in the heart of our city a neighborhood that celebrates healthy urban living. We know that together we can be more. Be better."
Financial terms of the agreement between the Trail Blazers and Moda Health were not disclosed. The two partners said they are developing a diverse set of initiatives and enhancements that will serve as key connectors for the community to the venue.
Those elements include the redesign and restoration of the landmark water and fire fountains outside the arena; new food and beverage options for the Commons area and arena concessions; enhanced wayfaring signage and accessibility throughout the Rose Quarter; improvements to pedestrian traffic flow into the campus, including guests arriving from nearby commuter rail stations and bus stops; upgrading of the landscaping and grounds of the Rose Quarter; and seasonal community-building and entertainment programming on the Commons.