Fighting for History
Memorabilia from decades past cause friction at Matt Dishman
| 8/14/2013, 10:45 a.m.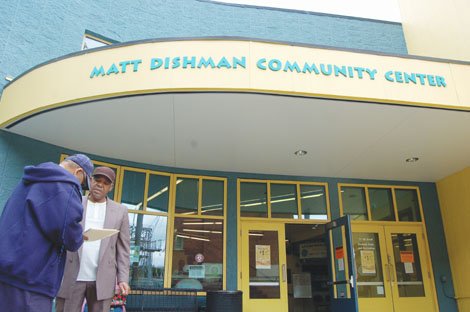 The historic Matt Dishman Community Center in north Portland is the focal point of a battle that essentially questions the relevance of the celebrated relics of decades-past to the 63-year-old site's immediate future.
Matt Dishman's boxing program brought the national spotlight to Portland during the 1960s and 1970s after local fighters like Ray Lampkin Jr., Chuck Lincoln, Thad Spencer, and many others made the center one of the most successful amateur boxing programs in the country. Mostly African Americans, they competed with the best fighters of the day, including renowned boxer Muhammad Ali to represent the United States of America in U.S. Boxing Trials and at the Olympics.
With the accomplishments came a number of accolades that are documented in historical write-ups from newspapers, to trophies and championship belts, all of which were once displayed prominently in the center's only display case.
All of this memorabilia has now been packed into cardboard boxes and locked away in a storage room only to be seen again once a year.
Ernest Richie, 69, has started a petition for the boxing club's history to be permanently replaced in the display case. He too used to box at Matt Dishman and is well acquainted with the many fighters who had placements in the display case.
He says he would visit the case every time he came to the center, operated by Portland Parks and Recreation, because it 'brought back memories.
But his main concern is less personal, "You're taking out our history, you're taking the history of the people that created this, and now you're taking it out," he says.
Richie says that a similar thing had happened 10 years ago. All the relics were removed from the case and packed away. When this happened, Richie says he drummed up community support and together they began placing calls to former Portland City Commissioner Jim Francesconi, demanding that the materials be replaced.
Shortly thereafter the items were replaced, though in the move some things were misplaced and lost forever.
Now Richie finds himself fighting again to return the boxing history to Matt Dishman's center stage.
He has well over 300 signatures from supporters, all insisting the awards be replaced.
He's distributed the petitions to various churches and community organizations throughout the city. Support continues to swell.
"I know a lot of the people that have signed this [petition], they're angry and upset," he adds, "That's been there for five decades, five decades, and someone comes in and takes it out. We're supposed sit back and say nothing?"
The native northeast Portlander has since mailed off a letter to Commissioner Amanda Fritz, the current Parks commissioner, detailing his and other signees concerns. Mailed off on July 29, it urges Fritz to have the items reinstalled. He has yet to hear back.
Maximo Behrens, 39, the current director at Matt Dishman, is less than a year into his post. He says one of his main goals is to shed light on the multitude of programs the center has to offer.
"We have an amazing facility here," Maximo says. "We have a lot of other programs and amenities here that can be utilized by the public that we really want them to be aware of."
So Behrens, in collaboration with other leaders from Portland Parks and Recreation, began developing several strategies for what they hoped would increase participation in all of the center's programs.
"As we were kind of going through that process, we were just kind of identified different places in the building, to say, 'what are some improvements we can continue to make here,'" he said.
That included removing the boxing memorabilia in order to utilize a display space to highlight various other activities and programs.
Facility users were given notice in the months leading up to the overhaul with a series of notes attached adjacent to the display case. The last warning came in June.
The case will now highlight multiple programs throughout the year, working on a quarterly schedule. Under the new rotation, the boxing program will be highlighted for months at a time starting in September, Behrens says.

The history of the center does continue to be recognized in other ways too.
On Saturday, Matt Dishman's annual community block party took place. The festivities served to honor the center's namesake "Matt Dishman," Multnomah County's first African-American sheriff's deputy and a Portland police officer and community advocate. The community lobbied for the name change from "The Knott Street Community Center" to 'Matt Dishman Community Center' in the late sixties.
Dishman would have been 100 this month.
As for Richie, he continues to volunteer hours of his time every week in an effort to see the boxing history of his beloved community center return.