Down Home Cooking
Everything made from scratch and fresh at the Miracles Café
| 8/28/2013, 1:01 p.m.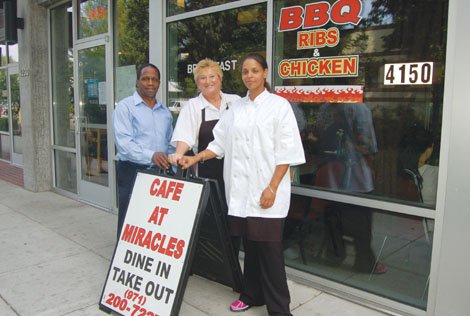 If you've been on Martin Luther King Boulevard in the last 8 months you have almost undoubtedly passed by Miracle's Café. Launched in November, the small soul food restaurant located on 4200 N.E. Martin Luther King Blvd. is becoming a go-to spot for many across the city.
Kim Lehmann, a former mayor of a small-town in Oregon where "everyone-knew-everyone," she says she never expected to own a soul-food restaurant.
Recognizing the increasing expansion happening in the neighborhood, she saw an opportunity and opened Miracles.
We want to make sure that there is always somewhere reasonable to eat and that there is a place to get actual, real, soul-food," she said.
Lonnie Herring who oversees all recipes that come into Miracles has one theory to why people seem to be flocking to the restaurant which is still in its freshman year, "….[the]down home cooking, everything is made from scratch, everything is fresh," he says.
Leeman is committed to making sure the food at her restaurant remains fresh too. She's even gone as far as to go out and personally pick berries for the pies served at the eatery.
Herring feels Miracle's Café is exactly what people are looking for in the area. He's calling it "the new Pearl District," and between the quality of cooking, a small but personable wait-staff, and the affordable prices he feels the restaurant will only continue to grow.