Soulful Journey
'Nebraska' uncovers a father and son's humanity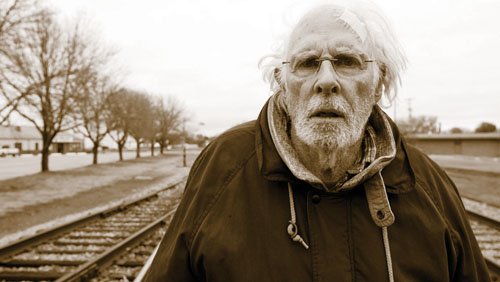 Dern won, and earned, the best actor prize at the Cannes Film Festival for his performance, and he perfectly captures the sense of a man who hasn't bothered to pursue much of anything for a long while, but somehow fumbles for that capacity near the end of his life. Though his choice of aims is misdirected, there is a point buried in there somewhere. We learn that (though not right away) because David--apparently hearing his father's cantankerous query, "What else you got goin' on?"--decides he can take the time to drive the old man to Lincoln. It's the first step in a journey of fighting past his father's meanness and history of neglect to really listen to him. And it left me wondering what would happen if more of us found the will to do the same for our elders.
The journey takes them to the central Nebraska town where Woody grew up, and soon Kate (the hilarious and hard-bitten June Squibb) and David's brother Ross (perfectly cast Bob Odenkirk) join them for a reunion of sorts with relatives and acquaintances who none of them have seen since David was small. Neither the place nor the people look like they've evolved much in the 30 years since they left, and David stays attentive for clues about his dad that would otherwise never rise to the surface. He meets an old sweetheart of Woody's, and learns of a possible affair, and of Woody's service in the Korean War. Did his dad ever love his mom? Did they plan to have kids? Woody's answers to such questions don't vary much from "I don't know" and "it doesn't matter." But there are glimmers of aspiration and pursuit of which David had not suspected his father was capable.
One of the most poignant scenes involves a visit the four of them take to the house where Woody grew up. He doesn't see the point in going, but its effect on him, and on David, is evident, if appropriately understated. Grunted remarks from Woody convey volumes about old wounds, and director Payne knows when to linger on empty spaces that still show the discards of the life they once contained. That family trip--full of sarcastic remarks from Kate and a misguided attempt by the brothers to right an old wrong for their dad--conveys a lived-in sense of them as a family, too.

This film benefits from Mark Orton's melancholy soundtrack, featuring guitars, fiddle, accordion, harmonica, and a haunting and whimsical trumpet/horn duet; it's the best soundtrack I've heard in awhile and conveys deeply the film's spirit of reverie. And Payne knows the importance of casting a movie with people you really believe; the townspeople, including an old girlfriend of Woody's and Stacy Keach as his menacing former business partner, utterly convince. SNL alum Will Forte as David deserves special mention, too; his resolution and muted exasperation balanced by sincerity and watchfulness give us the perfect vantage point for taking the film's soulful journey.
This film deserves the critical acclaim it has received, but much of what has been written about it attributes to the film a cynicism I did not perceive. Real people do lose momentum, or neglect to aspire to as much as they might. They can be comically, or tragically, spiteful and slow to change. But the truth of most of them is worth searching for. And this journey--bleak but strangely hopeful--is worth taking.
Darleen Ortega is a judge on the Oregon Court of Appeals and the first woman of color to serve in that capacity. Her movie review column Opinionated Judge appears regularly in The Portland Observer. You can find her movie blog at opinionatedjudge.blogspot.com.