Racism Ignites College Protest
Lewis and Clark students call for more diversity
| 12/10/2013, 3:15 p.m.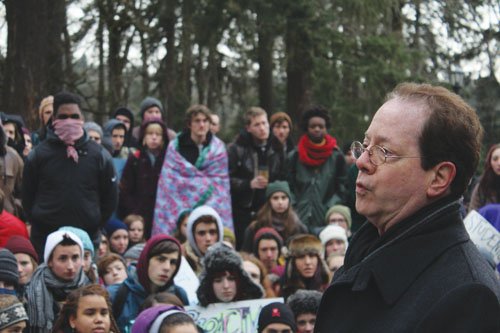 Lewis and Clark students and their Black Student Union are calling for more diversity on campus after a string of racist incidents.
Despite bitter cold temperatures, around 200 Lewis and Clark College students showed up Friday morning for an on-campus sit-in. Organized by the Black Student Union, the event generated major support from the southwest Portland school's mostly white students.
An unofficial 10-point list of demands made clear that the graffiti was only a symptom of a much larger problem at the school and in society; a lack of diversity.
From the faces sitting at the desks, to the ones teaching the material, to the material itself, the university creates and fosters an illusion of ''whiteness'' as the norm, the BSU students charged.
Lewis and Clark Senior Musa Ahmed, a BSU representative, recently detailed some of the problems in an opinion piece he authored for the school paper 'The Pioneer Log'.
When school started in August, he said a black dorm student had written "Welcome back" on a bulletin board outside her room and it was changed to "Welcome black Nigg."
Other racist scribes have been found more recently across the campus, including a misspelled call of "Jim Crowe for life", and the words "Niggers Stink." Cheers of the so-called "n-word" and "white power" were reported to Ahmed as a resident advisor.
It is worth noting that blacks make up the second smallest racial segment of the 146-year-old private institution, making up around 2 percent of its total 2,150 undergraduates edging out Native Americans by a mere percentage point. It is also ranked as one of the most liberal colleges in the nation. As far as faculty diversity goes, 1 percent is African-American according to collegeprowler.com.
Friday's demonstration brought out students from a diverse set of backgrounds, overtaking the outside of the school's main administration office with chants of "Walk the Talk!" and calls for change to how the college deals with issues of race on campus.
Lewis and Clark President Barry Glassner briefly addressed the crowd.
He told them, that in his youth he and his family were subject to numerous racist acts because of their Jewish ancestry. Though he noted that "no two groups and no two people's experiences are the same," he expressed empathy for the call for action in addressing blatant racial insensitivity on campus. But Glassner did not provide a specific plan to crack-down on racist acts or increase diversity on campus.
Organizers of the rally say that many members of the faculty have shown their support by attending student meetings on diversity issues and sending e-mails to the student body condemning racist actions.
Micah Leimbach, one of the organizers of the sit-in and a four year Lewis and Clark student, said the large support the demonstration drew sent a message to the importance of race relations on campus.
"This is one of the most important issues that's come up," Leimbach said. "A lot of our administrators and faculty are new, they've never seen this kind of energy before. So having this kind of energy around an issue shows that this is something that Lewis and Clark students care about."
--Donovan M. Smith