Rust Belt Dignity
Stellar cast gives 'Out of the Furnace' much to savor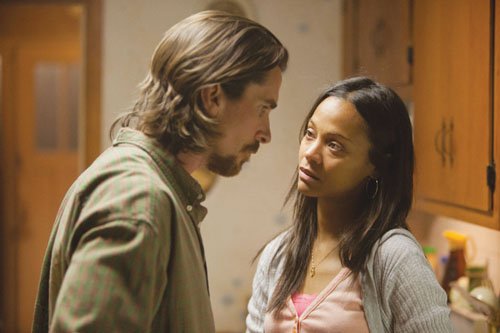 There is no shortage of films featuring stories of working class characters chafing against the failure of the American dream. The elements of such stories are familiar -- there will be violence, male characters will outnumber female characters (six to one is not unusual), and someone is sure to spend time in the military or in prison. "Out of the Furnace" contains these familiar elements, and its plot and themes aren't particularly original or insightful. Where this film rises above similar fare is in the particularity of its characters; director Scott Cooper ("Crazy Heart") evidently knows how to elicit the most specific performances from his stellar cast, and the film's pleasures lie in experiencing a familiar story told with dignity and resonance.
The film is set in the actual town of Braddock, Pennsylvania, a fitting example of a rust belt city hit hard by the decline of American industry. The streets and houses look gray and worn; neither energy nor resources have been invested in their upkeep for some time. Russell Baze (Christian Bale, never better), has followed in his father's footsteps working in the local mill, sometimes double shifts trying to stay ahead of the gambling debts and other trouble courted by his younger brother Rodney (Casey Affleck). Rodney has served three tours in Afghanistan and is headed for a fourth; what likely seemed a reasonable, even desirable alternative to hometown options has clearly left him unhinged and desperate to numb the memories of what he has seen and done.

Each man's choices make sense in their context. There's tenderness between them that wears like the connectedness of brothers who made trouble together and had bigger dreams than what life offered them. You sense that their choices followed their childhood inclinations, that even as boys, Rodney was the one who took foohardy risks, and Russell, the more centered. Russell's choices are the practical decisions of a man of strong will; one works to live, not to be satisfied; one does the tasks in front of him. He faithfully visits his ailing father; he keeps an eye on his brother; he lives with a pretty teacher, Lena (Zoë Saldana) with whom he intends to make a life, though it is taking longer than he wishes. He bears it all without complaint; each day he has a plan, and he stolidly adjusts that plan when life throws in complications and costs for which he didn't provide.
It all unravels, predictably. A cascade of Russell's own and his brother's mistakes lands Russell in prison. He faces this like he does everything else; with determination and realism. He takes responsibility, and hangs onto his hope, though while he's in prison Lena leaves him and his father dies. By the time he gets out, Rodney has returned from his fourth tour, and seems even more lost and angry. He literally fights -- in bare-knuckle, fixed bouts -- for cash that raise the stakes ever higher and suck him into the orbit of a mountain community ruled by a ruthless outlaw (Woody Harrelson).