Courageous Discourse
Hannah Arendt's riveting search for the truth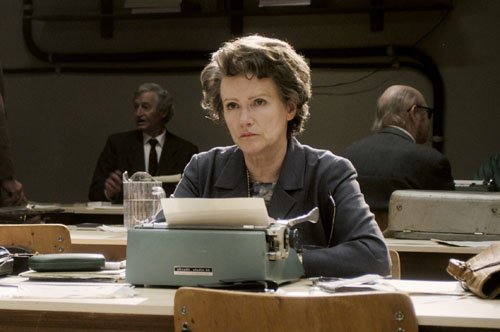 The film mines this episode for what it has to teach about Arendt's character. We see her life in New York with her philosopher husband, her peer in intellect and friendship; it is a rare pleasure to see such enduring connectedness depicted on screen. We see the quality of her other friendships, which endured across time and continents, often characterized by intense disagreements but also deep affection. Indeed, Arendt displays a fierce clarity of thought balanced by a rare ability to disagree without disconnecting. Her friends were not always able to reciprocate, to her sorrow and surprise.
Perhaps those same qualities contributed to her surprise at the intensity of the public reaction against her work. Although Arendt was often accused of arrogance, that description does not seem fair in this depiction. The film makes a compelling case that what others saw as arrogance was really strong-minded self-assurance, but not self-importance. When her husband and friends worry about the stir her work is creating, she at first dismisses their concern with her own assessment that the tempest will quickly blow over. Watching her struggle to understand and, ultimately, to respond to her critics (many of whom had not bothered to read her work and badly mischaracterized it) is where the film most rivets and inspires. One rarely sees such courageous independence, particularly from a mature person who stands to lose her prominence and reputation. The contrast with Eichmann is striking.
Von Trotta has succeeded in the difficult task of depicting thinking as action. Arendt, brilliantly captured by actress and frequent Von Trotta collaborator Barbara Sukowa, is often shown reclining and smoking, a testament (excepting the smoking) to the power of contemplation. But it is a film, after all, so Von Trotta also makes wise use of flashbacks to Arendt's pivotal relationship with philosopher Martin Heidegger and of scenes of her lecturing riveted German students and of boisterous conversations with friends. Sukowa, assisted by a uniformly excellent cast, conveys the sense of a life of intention and a mind constantly in deliberate motion.
Arendt's opinions remain controversial, but they permanently altered public discourse on totalitarianism and the problem of evil. Whatever you conclude about her opinions, this fascinating film, now available on DVD, presents her as a shining example of heroic commitment to the search for truth and commitment to the work of understanding. It is one of the best films I saw in 2013.
Darleen Ortega is a judge on the Oregon Court of Appeals and the first woman of color to serve in that capacity. Her movie review column Opinionated Judge appears regularly in The Portland Observer. You can find her movie blog at opinionatedjudge.blogspot.com.