Holiday Rush Hour
Watching your dollar as the holidays close-in
| 12/18/2013, 11:17 a.m.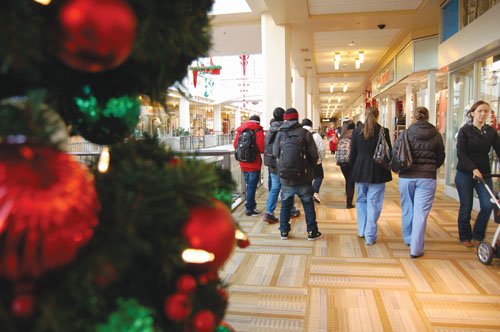 The decorations are up, the jolly old songs are playing (some with a merry remix from your favorite pop stars), and of course the gifts are being purchased and wrapped as the clock steadily winds down on the holiday season.
Spending money is a familiar scene from one of America's favorite past times. But shopping for Christmas in an economy that is still far from healthy, with many-a-pocket hollowed out, also raises concerns. How do you make sure that when the spell of the holidays where off on Jan 1, you are not left with unsavory ends?
Perhaps one of the main things to be vigilant for is scammers. As people look to open up their pocketbooks, more scammers are looking for your private information—like your banking number -- setting up shop, usually online to steal from your checking and credit card accounts.
A favorite of swindlers this year is fake cash lenders, according to experts with the Oregon Attorney General's office.
Diane Childs of the Oregon Division of Financial and Corporate Services, said there are only three licensed payday lenders is the state of Oregon, a fact many consumers may not know judging by the amount of complaints the state is receiving this year.
Childs says unlicensed payday loan scammers are offering interest rates online that are well above the state's limit. She warns that while it may seem tempting to deal with some of these dealers, it is always best to go with a licensed lender. A list of red flags to look for when shopping for payday loans can be found on a newly created website, stopunlicensedloans.com.
The Better Business Bureau also sent out their list of warnings this year, asking people to look out for phone spammers. According to the BBB's Do Not Call Registry Data Book, there were over 2.2 million complaints about recorded message callers or so called 'robocallers' in 2012.
The advice to consumers is to verify callers, and to keep from giving out personal information over the phone.
We travelled to Lloyd Center Mall in northeast Portland to see how some were spending for the holidays in one of the city's most popular shopping Mecca's.
Randy Wolfor, a father of four, says his family decided that the gifts to each other would be limited to $10 this year and include a nice meal at home.
"Before we didn't really have a limit, but everybody decided it's been such a tight year, and with family members a few months out of work and that sort of thing, we just cut it to $10 maximum per gift and do it that way," he says.
"Everybody thought that was a good idea, and everybody agreed," he says.
--Donovan M. Smith