Healing Hurt People
Trauma-informed program assists males of color
| 12/24/2013, 12:06 p.m.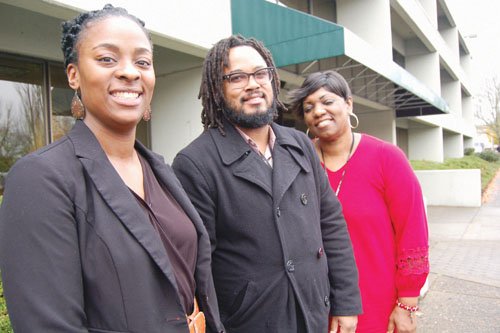 How do you heal hurt people? Dr. Alicia Moreland-Capuia would like to think she has an answer for young men of color who have been scarred by traumatic injuries and need help to escape a life of recurring violence and retribution.
A licensed and board-certified psychiatrist who is completing a fellowship in addiction medicine at OHSU, Moreland-Capuia has implemented "Healing Hurt People Portland" a program to heal young people who have suffered serious physical injuries from guns and knives.
The undertaking comes in a partnership between Cascadia Health Services and Legacy Emanuel Hospital to help young patients of color break a cycle of violence with an interdiction team that includes a social worker, doctor and other support.
Capuia, 32, an African American who graduated from Jefferson High School, says the saw the need to bring more diversity into the medical field early in her life when she became cognizant of the lack of familiar faces in the health professions.
"We had a lot of people in my family who were ill, we'd go to hospitals here in the Portland area and there just weren't a lot of people that looked like us that were taking care of my family," she says.
Her realization manifested itself in later years when she personally received her degree in biological sciences from Stanford University and then her doctorate of medicine from the George Washington University School of Medicine and Health Sciences.
Now with Healing Hurt People, she is looking to make good on her dream of bringing more culturally relevant care to the Portland area with the assistance of the Healing Hurt People team of medical and social service professionals.
One of the members of the group is Cheryl A. Johnson, the organization's program manager and the person who first envisioned a cultural specific crisis-intervention program for the Portland area based on a national model.
Since its launch in early June, Johnson says local hospitals have been thankful for the added resources, appreciative of seeing services that work to break patterns of violence instead of just patching up victims and sending them into the world without any follow up.
Now when someone of color between the ages of 10 and 25 finds themselves on the wrong side of a knife or a bullet, Healing Hurt People is dialed up immediately from trauma care facilities while the wounds are still fresh.
Research shows that this is the most critical time to reach out to young people because they're afraid, and often more open to make a change in their life.
Josh Lathan, 35, a peer intervention coordinator with Healing Hurt People, grew up in an impoverished north Portland neighborhood which helps him relate to young males who grew up disadvantaged. He also has two brothers who were victims of gang violence. Experiences like these help him establish immediate connections with many of his clients.
"I'm not a clinician. and I'm not gonna talk to 'em like a clinician," Lathan says.
In addition to easing the tension for patients, he also hopes the culturally-tuned interaction is better able to win more cooperation from these young men as they work with medical professionals and law enforcement officials.
The families of the victims are also highly engaged as part of Healing Hurt People's intervention; this includes people whom aren't necessarily relatives but whom are close enough in bonds for that title.
According to Moreland-Capuia, Portland's program is the 23rd "trauma-informed" clinic of its kind across the country with similar counterparts in larger metropolitan areas like Chicago, Philadelphia, and Washington D.C.
The ultimate goal is to do whatever it takes to get to wholeness and healing for all the people involved, not just the individual but the family as a unit.
"We don't want them to have any repeat emergency room visits, we really don't want them to be re-arrested or arrested," Moreland-Capuia says.
To help ensure the family is truly being benefited by their work, Healing Hurt People offers an array of services, including but not limited to housing, substance abuse treatment, and counseling.
And once the victim has passed through the hospital doors, the treatment does not stop. For anywhere from 6 to 12 months, these men can expect to have Healing Hurt People remain active in their lives.
The extended services include showing up to their client's lives, anything from a basketball games to a party, just to let them know there are extra pairs of eyes looking out for their well-being and looking for them to stay on track.
Ultimately the team at Healing Hurt People sees the effort as injecting positivity into the community.
"If you're a young man of color, unfortunately, the running theme or the running conviction is that you did something to deserve it," Moreland-Capuia laments, "That's not how we operate. We operate with mercy. We extend our grace. We're saying there's no judgment. You could have been my son, you could have been my brother, you could have been my cousin."
To find out more about Healing Hurt People or utilize their services visit http://www.cascadiabhc.org/healing-hurt-people/ or give them a call at 503-402-8111.
--Donovan M. Smith