Healing Hurt People
Trauma-informed program assists males of color
| 12/24/2013, 12:06 p.m.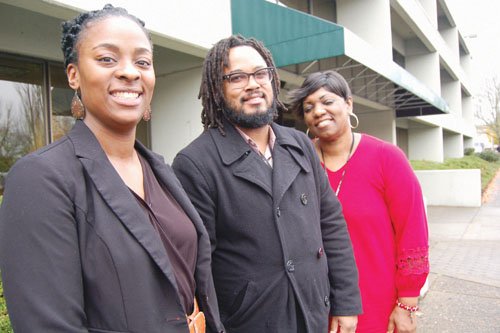 The families of the victims are also highly engaged as part of Healing Hurt People's intervention; this includes people whom aren't necessarily relatives but whom are close enough in bonds for that title.
According to Moreland-Capuia, Portland's program is the 23rd "trauma-informed" clinic of its kind across the country with similar counterparts in larger metropolitan areas like Chicago, Philadelphia, and Washington D.C.
The ultimate goal is to do whatever it takes to get to wholeness and healing for all the people involved, not just the individual but the family as a unit.
"We don't want them to have any repeat emergency room visits, we really don't want them to be re-arrested or arrested," Moreland-Capuia says.
To help ensure the family is truly being benefited by their work, Healing Hurt People offers an array of services, including but not limited to housing, substance abuse treatment, and counseling.
And once the victim has passed through the hospital doors, the treatment does not stop. For anywhere from 6 to 12 months, these men can expect to have Healing Hurt People remain active in their lives.
The extended services include showing up to their client's lives, anything from a basketball games to a party, just to let them know there are extra pairs of eyes looking out for their well-being and looking for them to stay on track.
Ultimately the team at Healing Hurt People sees the effort as injecting positivity into the community.
"If you're a young man of color, unfortunately, the running theme or the running conviction is that you did something to deserve it," Moreland-Capuia laments, "That's not how we operate. We operate with mercy. We extend our grace. We're saying there's no judgment. You could have been my son, you could have been my brother, you could have been my cousin."
To find out more about Healing Hurt People or utilize their services visit http://www.cascadiabhc.org/healing-hurt-people/ or give them a call at 503-402-8111.
--Donovan M. Smith