Elevating Portland
Gymnast helps kids, adults soar
| 12/31/2013, 10:26 a.m.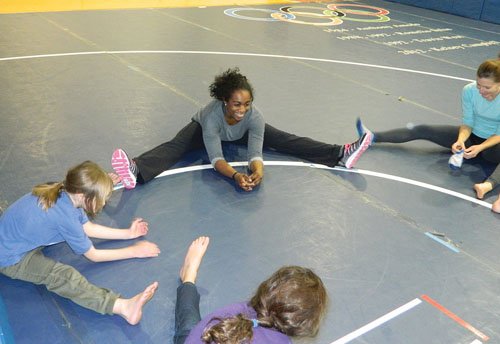 What's that flying in the air? Well, it very well could be you, momentarily denying the laws of gravity, if only for a moment once you become engaged in a sport coached by a Portland gymnast.
Meet, Saidah Wilson the energy-charged founder of Bridge City Acrobatics, a new acrobatics and tumbling school that operates out of the Peninsula Park Community Center in north Portland.
It's hard to believe when in conversation with Wilson now, but the talkative coach said she could was just two words shy of mute as a 2 year old. To help remedy her reservations early-on, her parents enrolled her in a slew of extra-curriculars in hopes that a more confident Saidah would emerge.
One of those activities was gymnastics, and now as an accomplished gymnast at 25, she still describes herself as shy, but she is bursting at the seams to pass-off the joys of gymnastics to others in Portland.
Wilson, a Southern California transplant, is directing the Pacific Northwest's only school exclusively directed at acrobatic gymnastics and tumbling.
From toddlers to adults, all are welcome to enroll in classes that range from "Tag-a-long Tumbling" for the toddlers to "Grown-Up Gym" for the older and more experienced folks.
Wilson is not afraid to admit she has a certain affinity for her youngest of pupils.
"When you teach kids you kinda get to bring back that sense of excitement about working, or about trying something, about learning something new, about small progressions, and that sense of wonder," she says. "Like the fact that they've figured out how to point their toes alternately without getting confused. It's a big deal. Like every little thing, is exciting."
Coaching since she was 14, the ever-smiling Wilson says the word "nice" is perhaps not best suited for her style of training. Though maintaining levity is something she works hard to maintain in both her children and adult classes, she is adamant that working hard is a requirement for any of her students.
She knows how grueling gymnastics can be far as the workout is involved, but notes the perks of sticking with it.
"When you go to the pool party and you are 10 with a six-pack, then gymnastics is awesome. When you are in gym covered in sweat and chalk and a little-bit of blood and your coach is making you do that thing that you fell on your face doing again, and you don't wanna be here anymore 'cause your friends are at the mall, gymnastics is significantly less awesome," Wilson says, with a light giggle.
With certifications from USA Gymnastics, CPR Training, and background checks for all of her staff Wilson has gone at great lengths to make sure that those looking to defy the laws of gravity, if only for a moment, are at least safe while doing it in her gym.
A humanist at heart, Wilson's passion extends past the rigorous lessons of flips and gymnastic tricks.
"I don't just coach people. I'm very invested in not just the product but the process and each student," she says "Regardless of whether my student is just coming in to learn how to do a cartwheel or they're coming in because they have to get ready for an audition for Circus du Soliel I'm invested in every single student personally."
Visit the website bridgecityacro.com to find out more about Bridge City Acrobatics
--Donovan M. Smith