Exactly Right
'American Hustle' delivers on laughs, characters and fashions
The film opens with Irving assembling his elaborate comb-over, a hilarious and symbolic demonstration of the care involved in Irving's method. Indeed, hair and clothes are especially vivid throughout the film, a bonus that comes with the story's setting in the garish, hair-obsessed 1970s. Sydney's long, flowing ginger hair is part of a distractingly luscious persona that dazzles people into parting with their cash. DiMaso, overestimating his smarts as much as his charm, wears his in home-permed curls as tightly-wound as his persona. And Irving's loose-cannon wife, Roslyn (Jennifer Lawrence), works her chaotic sex appeal with a blond bouffant as unruly as she is.
These are just a few of the characters who make up the conflagration that Irving must contain. Bradley Cooper applies just the right amount of manic energy to DiMaso, who keeps pushing the deal bigger and bigger, driven by ambition and greed.
Jennifer Lawrence very nearly steals the film as Roslyn; as Irving recognizes, she is a master manipulator and he is her "mark." She has a habit of setting things on fire (both literally and figuratively) and then deflecting blame on a dime so that she is actually the hero.
Amy Adams manages, in dresses cut down to her navel, to convey a woman of subtlety; she is working all her assets to rise above her circumstances and never stops strategizing, even when the social roles available to her don't allow her many options. A confrontation in the ladies' room between the two women is worth the price of admission all on its own.
And there is lots of other great work here, including from Jeremy Renner as the Camden mayor, Alessandro Nivola as a prosecutor supposedly modeled on Rudy Giuliani, Robert DeNiro as (what else?) a menacing mobster, and Louis C-K as DiMaso's long-suffering boss.
But Bale's performance is the heart of the film. His Irving is a marvel of complexity; his expressions convey that he is always strategizing, calculating odds, and occasionally despairing of keeping in the air all the balls that DiMaso has tossed there and Roslyn has diverted.
Although always working an angle, Irving struggles with the implications of his actions; he worries about Roslyn's son and about his failures of loyalty to Sydney and the mayor, to whom he has grown attached. Director Russell has made him the moral center of the film, which is itself a bit of flim-flam that suits the material. His morality is only satisfying if you don't think about it too hard -- which somehow makes the film very satisfying.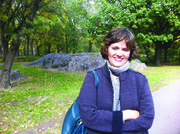 Darleen Ortega is a judge on the Oregon Court of Appeals and the first woman of color to serve in that capacity. Her movie review column Opinionated Judge appears regularly in The Portland Observer. You can find her movie blog at opinionatedjudge.blogspot.com.