Honoring Black Pioneers
12/31/2013, 10:10 a.m.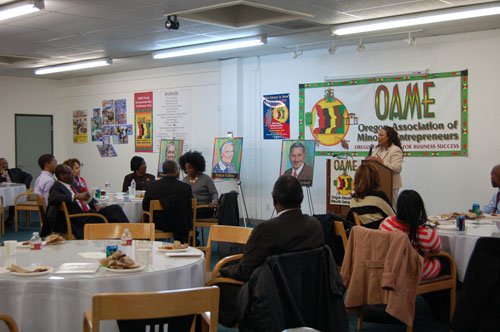 Portland giants in their work to make for a better community were honored by family, friends, and civic leaders at a special luncheon Friday at the Oregon Association of Minority Entrepreneurs.
Sponsored by the north and northeast Portland housing provider Portland Community Reinvestment Initiatives, the 2013 "Black Pioneers" honorees included Charles Jordan and Pauline Bradford, both 87, and the late Harold Williams, Evelyn Collins, and Dr. John Marshall, all strong advocates and activists for the city's black community.
Attendees at the presentation included current community advocates like State Rep. Lew Frederick and Multnomah County Commissioner Loretta Smith.
Smith offered reflections on Harold Williams and told about his positive influence on her as only the second African-American to serve as an elected county official.
Portland Community Reinvestment commissioned artistic portraits of each of the honorees and presented the finished works during the event.
The paintings were crafted by Fred Ingram, and are to be installed on the Russell Street face of the Urban League of Portland plaza building. The portraits are to join existing ones, which he also painted, sometime within the next month.