Relegated to Background
Film shines light on singers between obscurity and fame
Opinionated Judge, Darleen Ortega | 7/10/2013, 10:16 a.m.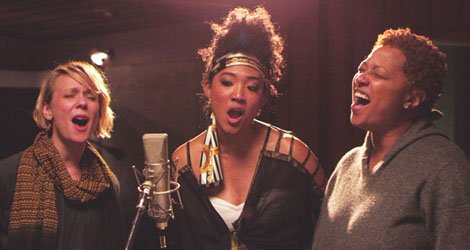 The question of why these singers have not achieved more notoriety lingers over the film. Darlene Love was robbed of credit for some of her vocals; her producer, the notorious Phil Specter, recorded them and then released them as the work of the Crystals. She spent years cleaning houses before returning to singing in her 40s.
After years of toil in the background, Merry Clayton attempted a solo career and, though the music sounds impressive, it did not sell well. Tata Vega, who experienced similar disappointment, recalls criticisms of her appearance (most of these women are gorgeous, though not necessarily as defined in the mainstream); she comments philosophically that, given the pressures of the business, it's probably just as well that she didn't hit it big, since she might well have died of an overdose if she had. Claudia Lennear eventually abandoned her attempts at a solo career and has taught Spanish for many years. Judith Hill did a stint on TV's "The Voice," but didn't make it to the finals.
The mostly white male stars these singers have backed speculate about the reasons why they haven't been recognized. It takes a lot of ego to make it in the music business. You need good management and people to write music that shows off your voice. You need powerful people to promote you. Lisa Fischer comments that she loves making melodies (which comes across in her transportingly beautiful improvisations in the film); she does not love some of what goes into stardom, and petered out of her own attempt at a second album after winning a Grammy.

I worry (and suspect, from some of the commentary I've read) that people will reach for that answer -- that these women just didn't have the drive that it takes to be a star. My own sense, from watching the film, is that the truth is more complex, and says more about the music industry and about American audiences than it does about these women (including Lisa Fischer).
Several of the backup singers mention being told that "there was already Aretha" (Franklin), as though the presence of Franklin and Patti LaBelle and the few other women of color somehow indicated a saturation of the market, something I can't recall hearing about artists of other backgrounds. (Did anyone worry about this when a string of cute white boys won American Idol?) Sting offers one of the more insightful comments, noting that such reality programs suggest that one can rocket to stardom without doing the spiritual work that goes into creating musical art. The fame that singers will achieve without doing that work is, in his words, "wafer thin"-- but it is fame denied worthier artists.
Of course, the market is full of such "wafer thin" music, and nowhere near saturated with the soulful and inspired work that these backing vocalists have been producing for years, in service of other more famous stars. But there is the real difference between that work -- which this film rightly celebrates -- and singing one's own truth.
As intrigued as I was to hear Merry Clayton describe the thinking that went into her decision to back Lynard Skynard's "Sweet Home Alabama," I am more interested in hearing what she would like to sing about the South. (Listen for her cover of Neil Young's "Southern Man.")

Although Neville, perhaps wisely, refrains from answering the questions his film poses, I hope his film will succeed in creating that kind of interest in other listeners. It's worth noticing -- and one can't mistake it here -- that these voices, relegated to the background, are mostly the voices of women of color, and they are voices whose quality exceeds, in richness, originality, and depth, much of what attracts and keeps music industry attention. As in so many other parts of our culture (not least, law and film criticism), we would do well to inquire after the voices we are missing.
Darleen Ortega is a judge on the Oregon Court of Appeals and the first woman of color to serve in that capacity. Her movie review column Opinionated Judge appears regularly in The Portland Observer. You can find her movie blog at opinionatedjudge.blogspot.com