We the Jury…
Verdict stirs conversations and protests
| 7/16/2013, 4:39 p.m.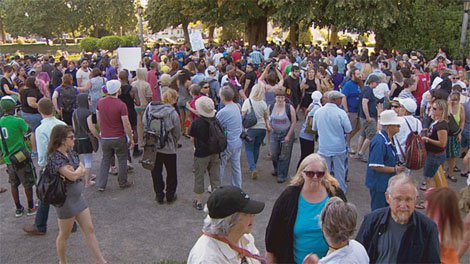 "We the jury find George Zimmerman, not guilty." Those simple words rang out in a Florida courtroom on Saturday, and just like that neighborhood watch volunteer, George Zimmerman was cleared in the shooting death of an unarmed African-American teenager.
Zimmerman was charged with second-degree murder and the lesser charge of manslaughter, both felonies.

Thousands of demonstrators from across the country, including Portland, took to the streets in protest of the 6-woman jury's decision of acquittal — chanting, praying and fighting tears. Organizers say they'll try to maintain the momentum with vigils this weekend.
A large crowd of people gathered in north Portland's Peninsula Park to protest on Sunday. The rally drew several community leaders, including the Urban League of Portland executive Michael Alexander, and State Rep. Lew Frederick of northeast Portland. Both voiced disappointment in the verdict and called for people to demand change.
One woman at the rally decried, "I look around the city, there's 11,000 people on a bike ride and there are less than 200 people here today."
Rasheeda Richards said she wants to see justice and hopes "in the future this doesn't happen to our black kids."
18-year-old Chavon Cade was not surprised by the verdict, but said he was worried.
"We've got to learn to stick together, we can't stay at home and be scared," Cade said.
Lifetime Portland resident Bonnie Johnson, among other things, added "We're still marching."
Rallies were largely peaceful across the county as demonstrators voiced their support for 17-year-old Trayvon Martin's family and heavily decried the verdict.
In California, protesters ran through Los Angeles streets Monday night, breaking windows, attacking people on sidewalks and raiding a Wal-Mart store, while others blocked a major freeway in the San Francisco Bay area in the third night of demonstrations.
Fourteen people were arrested after multiple acts of vandalism and several assaults in Los Angeles' Crenshaw District. One man was seen in the street with a head injury and a TV crew received minor injuries in an assault.
Advocates want federal civil rights charges against Zimmerman. The Rev. Al Sharpton said Monday that his organization will hold vigils and rallies in 100 cities Saturday in front of federal buildings.
The Justice Department has said it's considering whether federal prosecutors should file criminal civil rights charges now that Zimmerman has been acquitted in the state case. The department opened an investigation into Martin's death last year but stepped aside to allow the state prosecution to proceed.
Martin's parents though present throughout the trial, were not in the courtroom when the verdict was read.
Since the ruling has come down both avoided speaking with the media, but immediately following the court's decision on Saturday Sabrina Fulton, Martin's mother sent out a tweet urging for calm.
That urge for peaceful protest has been mirrored by President Barack Obama as well as a host of other leaders.
At a service in Sanford, Fla., where Zimmerman was tried, teens wearing shirts with Martin's picture wiped away tears during a church sermon.
In Philadelphia, about 700 protesters marched through downtown to the Liberty Bell, alternating between chanting Trayvon Martin's name and "No justice, no peace!"
"We hope this will begin a movement to end discrimination against young black men," said Johnathan Cooper, one of the protest's organizers. "And also to empower black people and get them involved in the system."
Atlanta a border-line away from the state of the tragedy, about 75 protesters chanted and carried signs near Centennial Olympic Park.
"I came out today because a great deal of injustice has been done and I'm very disappointed at our justice system," said Tabatha Holley, 19, of Atlanta.
"I'm just disappointed in America."
--Associated Press contributed to this report.