'Justice for Trayvon' Rally in Portland
Residents join call for action
| 7/23/2013, 3:39 p.m.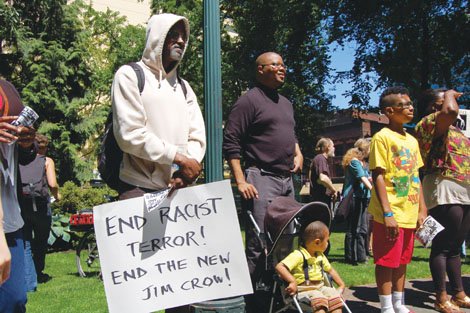 After the recent verdict in the George Zimmerman murder trial, civil rights leader Al Sharpton called for a nationwide day of protest. Saturday, a large group of Portland residents heeded the call.
Community leaders and the organization "Campaign to End the New Jim Crow" organized the local protest, drawing upwards of 250 people just outside the Mark O Hatfield Federal Courthouse. There were calls for civil rights to get lawfully recognized and acts of police brutality to get duly punished.
Speakers included community activists JoAnn Hardesty, the Rev. Leroy Haynes, Portland Copwatch activist Dan Handelman, the father of Keaton Otis whose son was shot 23 times by Portland police, Fred Bryant and a host of others.
The people then took to the streets for a peaceful march in the heart of downtown Portland, briefly interfering with traffic. No arrests were made.
At the end of the event, Hardesty pledged that there would be more demonstrations to come in the wake of what has become one of the most polarizing court cases in America today.
Here's a photo gallery from the rally: