Rattled Drivers
TriMet operators shaken up after violent attacks
| 7/23/2013, 3:44 p.m.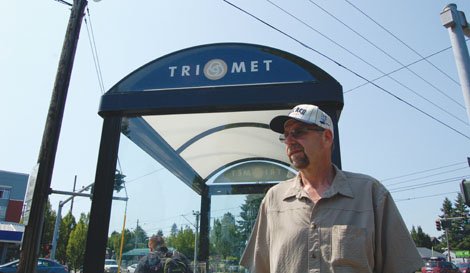 They drive us from point A to point B throughout the metro area every day, and rarely do we interact with them besides showing them proof-of-fare and a possible shout of thanks upon reaching our destination. They are TriMet bus operators, and violent episodes have left them questioning day-to-day safety.
For 15 years Dan Martin has been at the wheel of a TriMet bus. He likes to thinks as himself as a happy driver, one that tries to avoid conflict even if it means letting the occasional person get a free ride, "I don't want to give you grief about the fare, you know, just sit down, smile, let's just go," he says.
But on June 20, just after getting off work, still in uniform, Martin would run into something he had never encountered in his life, a gun.
While waiting on a bus platform in the Lents Neighborhood on 82nd Avenue and Powell Street with another female bus operator, he said he was approached by a frantic man screaming that he had just had a gun pointed at him. Martin directed the man to a nearby unmarked police car, but almost immediately a gun-wielding man came around the corner where Martin and the operator were standing.
Referring to that moment when the gun was brandished, Martin says with dread, "that gun only had a small barrel, but I tell you it felt like a cannon to me." In that instant he says his mind raced as he thought about his daughter and girlfriend, as well as the safety of the driver next to him who he said was "freaking out."
The turmoil happened just a few feet away from a 7-11 convenience outlet. Martin later discovered there was store surveillance video showing an argument between two men inside the store, with one of the men leaving the store with a gun in hand pointed outward.
Though there were other witnesses and even a description of the gunman, no arrests were made.
A spokesperson for TriMet Transit Police said because no person was physically harmed, and because there were conflicting stories about what actually happened, a crime wasn't apparent or didn't occur and the investigation ended.
Since the incident, both Martin and the other driver have taken time off work. Separately, both have begun receiving therapy to begin working through the experience, Martin said.
The 48-year-old Martin said he now has constant, uncontrollable facial twitches, and still has trouble coping with the incident.
Per the advice of his therapist, he went into a 7-11 store just feet away from where the incident occurred as part of an exercise to heal the mental shock he had encountered.
There has been a long history of violent attacks on bus operators at Tri-Met, both verbal and physical although operators don't necessarily report them every time. Since October 2012 there have been three operators stabbed; two of those happened while coming out of the transit agency's designated break areas.
Last week, a bus operator was stabbed in broad daylight coming out of a Tri-Met break room on Southeast 94th Avenue and Foster Road. Police say the perpetrator immediately began hurling racial epithets at the driver and then stabbed him three times; once in the chest, and twice in the stomach.