More than a Paycheck
Summer jobs program builds life skills
7/31/2013, 10:51 a.m.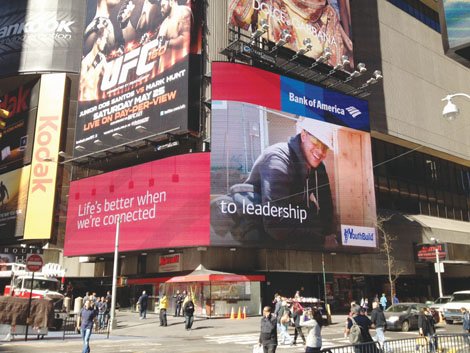 A group of Portland area students just returned from Washington D.C., where they joined hundreds of other student leaders from around the country to gain a deeper understanding of how community service creates positive change.
Now the students will dive back into their 8-week internships using the new skills and experience they've acquired.
One of the five student leaders was Jordan Senner, a Portland YouthBuilders grad who was recently featured on Bank of America's Times Square billboard to recognize him for his leadership and contributions.
The local contingency was part 225 community-minded high school juniors and seniors from around the country who are receiving paid eight-week summer internships at local nonprofit organizations thanks to Bank of America's charitable foundation.
Despite gains in the overall job market, teenagers still have the highest unemployment rate: one out of every seven young people is not in school or working. Teens who are gainfully employed have lower drop-out rates, are more likely to continue their education to pursue long-term career goals and ultimately show an increase in lifetime earning potential.
Bank of America started the Student Leaders program as the company's ongoing commitment to provide individuals with access and exposure to critical resources that will bolster their work and life skills while also benefiting the community, officials said.
"Our Student Leaders program provides teens the opportunity to earn and learn, while increasing the capacity of nonprofits to serve critical community needs," said Nicole Frisch, assistant vice president of corporate social responsibility for Bank of America in Oregon and southwest Washington. "I've managed the Student Leader program in Portland for the last four years, and I am always incredibly impressed with the passionate, hardworking and intelligent students in our community."
The other local students chosen to be this year's Student Leaders were Mary Ruiz, a Tualatin resident and recent graduate of Tualatin High School; Warren Vang, a Portland resident and recent graduate of Roosevelt High School; Jade McKanna, a Portland resident and rising senior at Lincoln High School; and Samuel Hartley, a Portland resident and rising senior at Metropolitan Learning Center.