Open to the Neighborhood
Concordia University builds bonds with the community
| 6/4/2013, 4:59 p.m.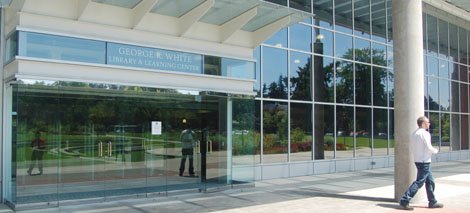 "If it's good for the community, it's good for Concordia," those words are the unofficial motto of Concordia University President Charles Schlimpert, a mantra that has been increasingly evident as the university builds long-lasting relationships with not only with an increasingly diverse student body but also the people who call the surrounding area home.
The private Christian school in northeast Portland has increasingly reached out to the public as it makes strides in becoming a major educational institution serving an extended community, with perhaps the biggest connection being the new George R. White Library and Learning Center.
A hub for a wide range of individuals and organizations, the library hosts over 100 different community groups every year, completely free of charge. With an impressive 74,000 square feet of space and a Gold Leed Certification by the Green Building Council, the library was designed to appeal to both students and the neighborhood.
"The goal was to design something that people wanted to come to, so that whether you were a student paying tuition or you were a neighbor who lived across the street, you felt like it was your library." says Gary Withers, Concordia's executive vice president for external affairs.
Before a 2009 renovation, the library was tucked deep into the second floor of another building on campus. However after investing nearly $14 million into the new space, the library was placed in a much more accessible part of the campus.
Since opening its doors to non-students, the school has issued thousands of free library cards; almost 2,300 were distributed last year alone with community card holders checking out 6,928 items.
Besides the occasional overdue book, and the slightly more frequent unattended minors, Concordia Librarian Brent Mai says the biggest downside to the increased access is that "Everybody wants to use it at the same time." He deduces the demand for use as being "typical" for any public library.
There is always a steady stream of young kids weaving their way between the library shelves. The library and campus is just one block away from Faubion Elementary School, Concordia's educational partner with Portland Public Schools.

Every semester the university sends 150 students over to help Faubion students with homework, tutoring, and build literacy skills.
"We really like to think of ourselves as a resource for the community in the very broadest sense." Withers says.
With local issues ranging from conflicts over race, education, gentrification, faith, and more, the 108-year-old university is striving to be a positive agent with its open doors and community projects.
"We understand the challenges for people over the decades, and we want to open our arms and welcome folks in." says Withers. "It's the right thing to do, and hopefully we do it in a way that's modest."