Date Set for 2nd MLK Dream Run
Annual event supports north and northeast Portland
Lee Perlman | 6/10/2013, 1:47 p.m. | Updated on 6/10/2013, 3:55 p.m.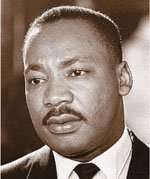 This year marks the 50th anniversary of the civil rights movement's March on Washington and Martin Luther King Jr.'s I Have a Dream speech. As one way of honoring the event, the North-Northeast Business Association is holding its second annual Dream Run.
On Sunday, Aug. 4, participants will assemble at 7 a.m. at Northeast Martin Luther King Jr. Boulevard and Alberta Street for 5, 10 and 15 kilometer road runs. Along the way they'll be cooled from the summer sun by misting stations and entertained by church choirs. There will be prizes for the top men and women finishers of each race, and all runners will receive t-shirts, cinch packs filled with goodies, and Cash Duckets good for discounts at participating businesses. There will also be a raffle good for still more prizes.
Proceeds from the event will go to NNEBA's Fellows Program, a youth entrepreneurial training program, and the North by Northeast Community Health Clinic. Sponsors include the Nike Community Store, Metro Regional Government, Kaiser Permanente, Lawyer's Title, Flossin Media, and the Portland Observer.
The Dream Run was inaugurated as a way to get people to visit and promote the residential neighborhoods and business districts of inner north and northeast Portland, also known as the Soul District.
This year on the day before the race – Saturday, Aug. 3 – organizers will be holding an MLK Dream Run Health and Expo-tique, with food, entertainment, and booths by businesses and health-related organizations.
It took a year of work, and negotiations, to get the first MLK run off the ground. The event time was a compromise between event organizers, who did not want to disrupt Sunday church services, and city officials who did not want to close Martin Luther King Boulevard on any other day but Sunday. Once it happened, however, it was a great success, attracting 600 runners from five states.
This year's run may draw more participants. A Geoff Hollister Tribute Run honoring the late Nike executive will be sanctioned by U.S.A. Track and Field and is expected to attract world class competitors.
Registration fees are $25 for the 5K, $35 for 10K and $40 for the 15K runs. To sign up, or for more information, call 503-546-8412 or visit MLKDreamRun.org.