Black Fatherhood
Portland filmmaker takes aim at the complexities
| 6/12/2013, 10:47 a.m. | Updated on 6/17/2013, 9:52 a.m.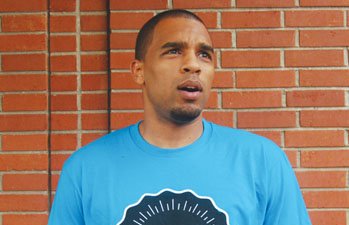 First-time filmmaker Jordan Thierry explores some of the more complex traditions of patronage in his debut film "The Black Fatherhood Project".
The Portland resident said the documentary was sparked by the troubling disparity he noticed amongst his peers; many of his Caucasian friends had fathers present while for his African-American friends the norm was a households headed by single-mothers. This discrepancy was something Thierry says he couldn't ignore; there had to be a reason why.
So he began creating "The Black Fatherhood Project" in search of some explanations, without knowing what all the answers he would find. He went into the community and interviewed an array of African-American fathers, about their experience and why they have become such an anomaly.
Thierry himself comes from a long line of patronage; he can trace a line of his own fathers and grandfathers that have been present in the lives of their children seven generations back.
Of his own lineage of fathers, he said, "I think it's just critical to have that unbroken link, it sets an example for the next generation and creates a norm." "It was expected."
His documentary uses a host of examples to outline how fatherhood has been defined in the past, how roles have been melded and shifted, and attempts to explain how examples of the past can serve as models for the future.
One example of tradition used prominently in the film comes from Africa, specifically the idea that it takes a whole group of people to look out for and care for a child, also known as "It takes a village," mentality.
"If you look at traditional African societies and some of the family systems they used to sustain themselves, I think that's the best example you can use today to inspire black people," he said.
An Aloha High School graduate, who went on to earn a bachelor degree in journalism and communications at the University of Oregon and a master's degree in mass communications and media studies at Howard University, Thierry said he had a "plethora" of role models growing up.
He points out that often times if a father is present it is likely that there will be more males around to help guide and support a child which can be beneficial for both genders.
That is not the reality for many African-Americans coming up today. According to the Census Bureau, 64 percent of African-American children live in fatherless homes. And according to Thierry the numbers are only growing worse.
His theory is that the cycle absenteeism is much less a result of a lack of desire and much more likely the result of centuries of bad messaging and the systematic separation of many black males from their families.
In the wide spectrum of information targeted at black males, "fatherhood wasn't included in that, and I think eventually we began to buy into that, he said.
Even after the endless months of research, interviews, and filming, Thierry says his movie venture does not provide an ultimate answer to increasing the number of black fathers but provides a wealth of insight into how the disparity began, which he hopes will provide some stepping stones to remedying families across the nation.
"The Black Fatherhood Project," premiered in February. Thierry says he will be removing the movie from his website soon, but it can still be viewed for free by visiting blackfatherhoodproject.com.