Reaching Out for Equity
Procurement Services raises profile with minority firms
| 6/19/2013, 11:17 a.m.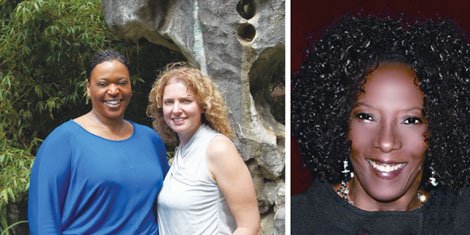 Not every facet of Portland's inner workings gets the most attention but every unit has an important role. Portland Procurement Services is one of those units you probably haven't heard of, but you have undoubtedly seen their work. And with a recent shift in focus to stronger relationships with minority and women-owned businesses, Portlanders are prone to see more results
But what is Procurement Services? Whether it is a new police squad car or the seemingly never-ending construction of streets and sewers, it is Procurement Services that makes these purchases and practically all others for the city.
"That's us." says Christine Moody, who is the city's chief procurement Officer.
And in a city where maintenance projects are as frequent as the rain, outside help is generally the only way to get these tasks completed. Usually the first people considered are found in an ever-expanding rolodex of small-business contacts acquired by the city through the years.
Once a business has been selected by Procurement Services to carry out the work, the business is awarded with a contract.
Portland's leaders in government, however, have pushed for even greater participation from minority business firms that are desperately underutilized, officials said.
"Oregon hasn't necessarily been the friendliest to minority and women-owned businesses" says Moody who has been with the city for 18 years.

Portland has made a concentrated effort to expand the diversity of the firms receiving these contracts through their Minority Evaluator Program.

Started in late 2009, the program requires all the city's bureaus to include at least one minority evaluator in the process of procurement contracting.

Tiffani Penson is in charge of outreach to these communities as the head of the program.
She said the effort includes meetings with African, Latino, and Native-American leaders and the groups promoting minority businesses, like the Oregon Association of Minority Entrepreneurs and Hispanic Metropolitan Chamber.
It is outreach like this, Penson says, that is allowing Procurement Services to better understand the needs of these businesses and giving them the tools to grow with them.
Jacqueline Lawson, owner of social media startup Hot and Mobile says contracting with Procurement Services has helped her understand the "lay of the land" businesswise.
Lawson, who has done business across the states, says Preston and Moody are responsible for one of the best procurement services she has encountered.
"Not only have I done well, but many others who have utilized the city's Procurement Services have been successful," she says.
Penson and Moody both agree that having these kinds of strong contracting relationships with minority and women owned businesses is nearly as important for the owners as it is for the city.
"Whether you're a contractor or just as a person, you're different and I think that bringing that to the table is going to help the city do things differently." Moody says
"We want to see everybody thriving and not just a certain segment of the population." she adds.
You can learn more about Procurement Services and contracting opportunities by visiting portlandoregon.gov.