A Party for a Showcase
Peninsula Park and Community Center celebrate 100 years
| 6/25/2013, 11:44 a.m.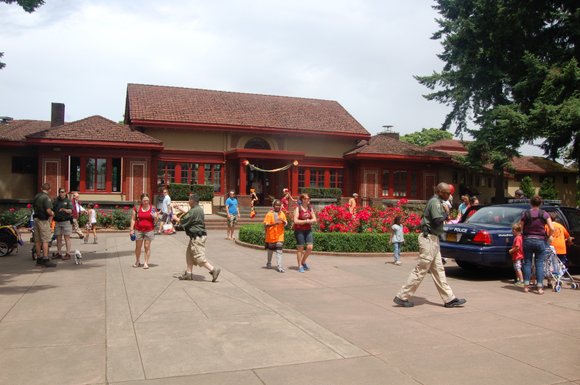 It's hard to find any longtime resident of Portland who doesn't have a memory of the historic north Portland centerpiece Peninsula Park, and on Thursday, June 27 a whole host of new memories were made as folks from all around the city celebrated the park turning 100 years old.
Peninsula Park and Community Center, located at North Albina Avenue and Ainsworth Street, was the first such facility in Portland's public parks system when it opened in 1913. The centennial celebration brought a day and evening of family-friendly events that ranged from an ice-cream social, circus performances, rock climbing, and of course music, which was provided by both Portland Teen Idols and local blues legend Norman Sylvester.
Portland Parks and Recreation Coordinator Debbi Harris has spent a majority of her life residing in the adjacent neighborhoods to the landmark park. Excited to see the park turn 100, she said of the festivities, "This was great for the community; it became a place where everybody of all cultures were and still are welcome."
The day also included a documentary showcasing Peninsula Park's legacy throughout the years, and a movie at dusk.
The park has a lush history; not only is it home to the city's first public rose garden it also continues the city's first community center. Open throughout the year, the community center maintains an important link to the people of Portland.
Though the neighborhoods surrounding the lush green landscapes of Peninsula Park has had noticeable demographic shifts since its inception, Harris says the celebration was a good opportunity for all these diverse cultures to unify under the fact that they have all shared memories in the same venue.
She said the centennial celebration was ultimately about being together and supporting each other.
A photo gallery from Thursday's festivities can be found here: