Marriage Wins Out
Couple overcomes adversity with hospital wedding
6/26/2013, 10:39 a.m.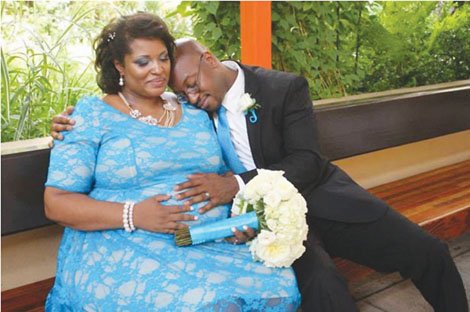 A Portland couple has plenty to celebrate after getting married under some trying circumstances.
Monique Norington and Sheldon F. Joseph were recently married on the grounds of Legacy Emanuel Hospital thanks to the help of the hospital and friends.
Norington was confined to a hospital bed after recurring complications during her 8th month of pregnancy. She and her fiancée were left to cancel a trip to Hawaii where they had planned to tie the knot. That same week she was hit with the devastating news that her step-father had passed away.
With the help of hospital staff, the couple was provided with everything for a wedding in the hospital's gardens, from a cake, desert bar, and a photographer.
Joined by a host of community leaders such as State Rep. Lew Frederick of Portland and County Commissioner Loretta Smith among others, the pair were joined in union on June 15.
"We are glad that despite any outside odds we were able to join together in matrimony," said the newlywed bride. "Our little girl when she is born will know that she has two strong parents that have a bond and love for each other that will last a lifetime and share that love for her as well."