Williams Avenue Uplift
Job Opportunities come with New Seasons Williams Avenue store
Lee Perlman | 6/26/2013, 1:35 p.m.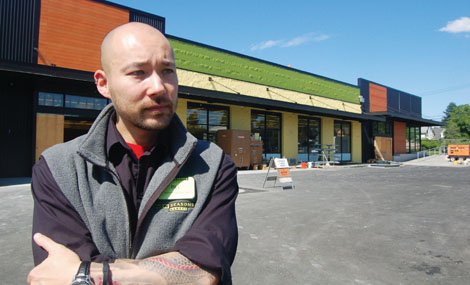 The newest New Seasons Market at 103 N. Ivy St., near the North Williams Avenue and Fremont Street intersection, is being readied for a September opening, one that is being awaited as eagerly by company officials as by customers and neighborhood residents looking for jobs.
On Friday, June 28, the locally-owned grocery chain will host an employment fair from 11 a.m. to 4 p.m. at Portland Community College's Cascade Campus gymnasium in north Portland. In a notice on a local neighborhood website, the company says it's looking for high-energy, service-oriented people who want to go the extra mile for customers.
Among the kind of employees New Seasons hires is Bill McGee, who will oversee operations of the Williams store as manager. After working for New Seasons for six years, he told the Portland Observer, he is eager to take over "a brand new building with new challenges, and the ability to build my team from the ground up."
The team of employees will consist of about 150 people, he says, and they will be a mixture of veterans and newcomers.
He said a good number of workers at other stores have requested to work at the new site, in many cases because it is in or near their neighborhoods.
"If two people (seeking a job) are equally qualified, we like to give someone a chance to work where they live," McGee says. For instance, one of the workers lives three blocks from the new store, yet currently commutes daily to a New Seasons outlet in Washington County.
Mary Lou Keeran, staffing manager for New Seasons, says the company does not release specific data about the diversity of its work force, but the hometown grocer is known to be inclusive in terms of race, ethnic origin, gender and age.
Keeran says New Seasons is doing employment outreach through groups such as the Urban League of Portland, New Avenues for Youth, and neighborhood associations.
The company also relies on word of mouth from their own employees, "A happy staff tends to promote you among their own circles," she says.
For the Williams Avenue store, Keeran says such approaches will tend to reach people from inner north and northeast Portland rather than, say, Washington County.
McGee said the Williams location was in a "diverse community and the workers will reflect that diversity."
Many workers will find the jobs at New Seasons attractive. Starting wages are never less than $10 an hour and include a full benefits package, McGee says, and they seek to provide a "positive work environment." In addition, he says, "We try to promote from within the company."
New Seasons also tries to be a good corporate citizen. The Williams Avenue store will be cultivating a relationship with Self-Enhancement, Inc., a nearby charter school geared to lifting up children from Portland's African-American community.
New Seasons contributed $500,000 last year to worthy causes. They also contribute food items to groups such as the Oregon Food Bank.
McGee was born in South Korea, the son of a U.S. Army soldier stationed there, and during his childhood, "We moved around a lot," he said.
A resident of Oregon for 16 years; he has worked in the Raleigh Hills and Cedar Hills New Seasons Market.