Keeping the Ribs Coming
Reo's moves to Southeast Powell
| 6/28/2013, 11:02 a.m.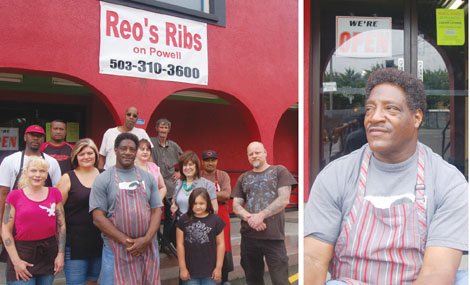 "You're not getting no fake BBQ, you're getting real BBQ, getting all your vitamins A-Z, if there's another alphabet please let me know," says Portland-area restaurant owner Reo Varnado, showing the excitement for his delectable menu items and a good start with customers at a new location.
The rib shack has seen several sites in its 14-year tenure but continues to bounce back. Varnardo credits much of that to his strong faith in God. His nearly infamous rib shack's new home is at 11400 S.E. Powell Blvd.
The slightly vegabound nature of prior business moves can be blamed on complaints of smoke billowing from Reo's humongous outdoor grills, and a business-partnership gone sour, but Varnado is trying to put these unfortunate situations behind him.
With the new location, restaurant- goers can look forward to some new amenities.
"I never had a building like this," he said. I always wanted a restaurant with a club, a bar, a stage and a dance floor so everybody can come in and enjoy themselves." he said.
The building came with the extra features, but needed a whole load of work. It was put into shape in large part because of the Reo employees "he couldn't live without," Varnado says.
Though he says he is aiming to draw in an older crowd with promises of live jam sessions every Saturday proceeded by gospel from 2 p.m. to 7 p.m., Varnado says everybody is welcome, but warns "When you come, come correct, you can't come in here with your pants down, 'cause where not gonna let you in."
He's promising to have some big names grace his stage soon too, names he rattled off include his legendary nephew Snoop Dogg (now Snoop Lion), comedians Mike Epps and Katt Williams, and Harold Melvin and the Blue Notes.
When asked why people continue to come to Reo's Ribs he says confidently "People like me, they like what I'm doing, they come from many miles away, they're flying in to get it. If it you do good, good comes back to you."