American Dreamer
From Iraq to Portland area entrepreneur
| 5/2/2013, 8:29 a.m.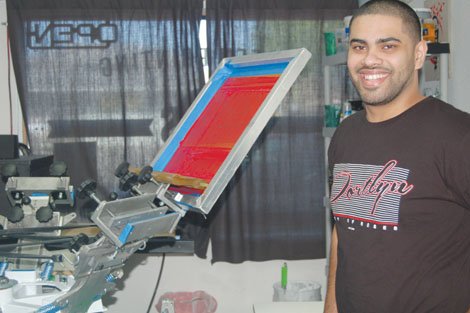 "The American Dream" in today's America is not easily defined, but when someone is chasing it, it is easily recognized. People striving to create their ideal reality are a constant in the pursuit for success in the United States. Portland's own Hussein Al-Baiaty is such an example. He has gone from being a refugee from Iraq to a self-made businessman.
From the ages of five through eight, Al-Baiaty and his family sought refuge from the turmoil in Iraq in the deserts of Saudi Arabia, hoping that Sadam Hussein's reign would soon fall. Though he describes these years as tortuous, he is quick to mention "during these years my family and I had to make the best of this bad situation and keep living as best we could."
But in the summer of 1994, Al-Baiaty and his family migrated to the United States where a whole new set of challenges would await him. Not a word of English was known to him at the time. But he was persistent in his quest to balance the two worlds he knew.
"Once I got into middle school and high school I learned to master both my cultures while at the same time grasping how to fit in with my peers," he said. "It was humbling."
Perhaps it was the sum of his challenging life circumstances that caused him to reject the pursuit of simple comforts for the motivation to succeed in a career, specifically with his art. A canvass and piece of paper became the first tools of his trade. T-shirts were the next medium to conquer.
While studying graphic design and architecture at Portland State, he started a T-shirt line of his own, but just as a "side project." Over time his passion for the art and business of screen-printing began to grow. He took to the basement of a friend's downtown Portland barbershop and began printing shirts for various cultural groups around the PSU campus.
With various jobs in between, this basement business and "side project" manifested into something much more. He is now the co-owner of his own screen-printing shop in Beaverton, and his T-shirt line was revamped, renamed, and given just as much attention as the shop.
Hundreds of shirts are being printed each day at H&S Screen Printing, located at 4680 S.W. Watson in Beaverton. Whether it is for local high schools, like Jefferson High, local clothing brands, or for troops overseas, his customers are widely varied and are increasingly coming from word of mouth.
His company brand Almaic simply comes as an extension of his passion for extending knowledge and love to the masses. The brand is a juxtaposition of hip-hop culture, modern design and his heritage in combinations that blend the abstract and the authentic.
The concept of the brand is meant to provoke thought and spark conversation among the people that see his designs. Many of the prints pay homage to the city of Portland. He attributes much of that to being able to express himself freely here. "You have to realize, I come from a place where this was not much of an option."
Though very young in his time as a refugee in the Middle East, Al-Baiaty said he remembers the horrors of it quite clearly and has not been shy about sharing his journey as a speaker at local schools to inspire kids to pursue their passions.
Though misconceptions about him are still constantly made about him because of his racial background, he prefers to distance himself from the ignorance and negativity and promote positivity, whether it is through the graphics he produces or simply a price break he gives to churches and non-profits.
Al-Baiaty and his H&S Screen Printing business are looking to expand to another location in Beaverton , he said, to "create a thriving hub for graphics and screen-printing," so as to not only promote his own shop, but businesses around him.

His desire for a challenge has yet to be extinguished.
More can be found about H&S Screen Printing at handsprints.com, or on the website with his brand Almaic at Almaic.com.