Science Club Works to Clean Up the Air
Roosevelt students respond to poor air quality report
| 5/8/2013, 1:42 p.m.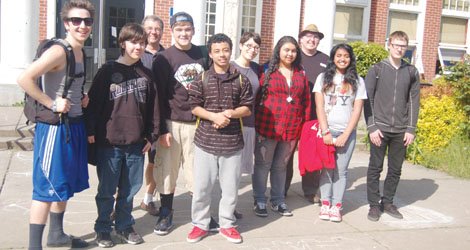 It is safe to say Portland is becoming known worldwide for our progressive values, politically, socially, and perhaps even more so, environmentally.
So the fact that nestled away on the north side of the city, Portland's statistically poorest high school, Roosevelt, is home to some of the worst air quality in the nation, may come as a frightening surprise to many Rose City residents.
In a USA Today study from 2009 measuring air quality in schools across the country, Roosevelt ranked at the bottom one percentile. The report also cited the neighborhood as having the worst air pollution in the city of Portland.
When Portland State University Urban Studies graduate Ronald Pate came across the study a couple months ago, he was shocked into action.
He immediately linked with Roosevelt science teacher Kendall Jensen, and together they have developed a project for students to be proactive about improving the air quality of their school.
Pate calls the ventilation system at Roosevelt "marginal" at best. He said the 93-year-old building has barely functional vents in the ceiling and windows that can help keep air circulating.
Joining with other volunteers and Roosevelt students themselves, the school is adding indoor plants to classrooms to help absorb harmful toxins in the air.
Using what is called a called a snake plant, the vegetation is fashioned into pots with fans, which help filter healthier air back into the room. They have set up four snake plants in a room, as a demonstration project with four state of the art air monitors loaned by another PSU environmental science graduate to track the changes, if any in the air.
Jensen who has taught at Roosevelt for four years is excited about what the project could mean for her students.
"I really believe in this idea of service learning and community-based learning," Jensen says. "I feel like if our curriculum is meaningful and the kids are working on stuff that's affecting the community they see that connection, they see how it connects to science, or history, or English."
The project is only made possible by a small legion of Science Club and other students coming together after the final bell rings.
Freshmen Nathan McEmrys says even though some of his friends are not excited about coming in after school, they're learning and like helping out.
Melva Perez, another freshman at the school, says she wasn't surprised by the poor air quality findings.
"It makes sense, since this school is [almost] 100 years old," she said.
"I could just tell from the smell," said Elijah O'Shea, a sophomore.
The students are excited to find out what results the plants could yield.
The staff at Roosevelt is writing a grant proposal for $12,000 in order to expand the project next year with sophisticated electronic devices they that can monitor changes in air quality. The equipment could run them about $3,500. So far, $300 has been raised in donations.
Funding is a constant battle for teachers. To do certain projects or simply have the supplies for their students, teachers are often forced to pay out of their own pockets. Some even have taken unpaid days to conduct field trips when the school cannot afford to bring in a substitute teacher.
Jensen estimates that she and her husband have sacrificed roughly $1,000 of their own money to support student projects.
"We really feel chained by our funding," she said. "Every project and field trip comes with financial sacrifices."
The ultimate goal of the air quality project is to take their findings to the surrounding community in hopes of collaborating with Portland industries to begin working towards reducing toxic emissions in the area.

"It might take a little bit of money and a lot of support, but everybody can come together and change everything," freshmen Manny Lopez says with a smile.
For more information about the Roosevelt Clean Air Project, or to make a needed and welcomed donation, visit the website tinyurl.com/Roosevelt-SO2lutons.