NFL Star Carries Field Project Over the Top
Ndamukong Suh and Nike team up for track and field
5/15/2013, 5:09 p.m.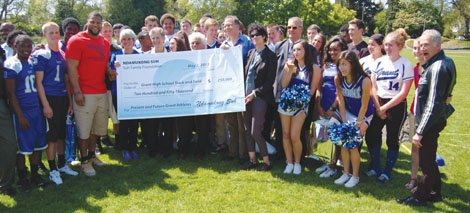 NFL superstar Ndamukong Suh returned back to his native Grant High School bearing gifts.
Suh through his Ndamukong Suh Family Foundation donated 250,000 to his high school alma-mater at a ceremony on May 2 at the northeast Portland school to mark the completion of a 12 year fundraising effort for a new turf athletic field and new synthetic track.
Portland City Commissioner Nick Fish said Suh's contribution was pivotal in achieving complete funding for the project.
"Two powerhouses helped close the final funding this project, Nike and Ndamukong Suh." Fish said.
Nike provided a generous grant of $350,000; joining the Portland Parks and Recreation Bureau allocation of $452,000; the Portland Public Schools' contribution of $391,000; along with generous donations from Friends of Grant Athletics.
Grant students have never had a turf athletic playing surface. The goal is to have the field and track completed before the start of the high school football season.