Worth Fighting For
Portland dentists add their voices to fluoride debate
| 5/15/2013, 10:36 a.m.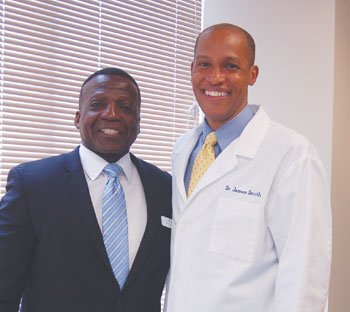 Dr. Kenneth Wright and Dr. James Smith make no quarrel about it, they want Portland's water supply fluoridated. The two Portland residents who have over 60 years of dentistry between them are voicing their support for Ballot Measure 26-151.
Being two dentists who also happen to be African-American they are not only an anomaly in their profession, but they are also dead center on one side of heated arguments that has divided minority groups in Portland. The dentists say fluoridation is worth fighting for as part of the effort to deliver much needed dental care to the public.
Dr. Smith knows the city well; he has walked the halls of Humboldt and Jefferson alike reflecting on those days with a particular fondness. Becoming a dentist was not what he had envisioned for himself, but when a former Jefferson teacher he admired inquired to him why not, the possibility became tangible to him until it seemingly became his only option.
After receiving his degree from Jefferson High, he successfully pursued an education in dentistry at OHSU. Smith says the opportunity came from the encouragement from those around him, "There was a lot of community support to do that, and to do things I didn't know if I was able to achieve; people were very supportive and influential in that.
Smith recalls his first time participating in "Mission of Mercy" where dentists deliver much needed dental-care to some of the city's most vulnerable citizens, completely free of charge.
"That just really brought to the forefront the fact there's so many people who don't have dental care, who suffer tremendously," he said.
Dr. Wright originates from New York City. Flashing back to early childhood, he remembers standing in the welfare lines with his mother to receive blocks of government-funded cheese. But he says it was having fluorinated water as a child that gave him a good start to oral health.
The oldest of his mother's five children, Wright was the first in his family to graduate from high school. He continued his education at Columbia University with a focus on dentistry, before attending Harvard. After graduating from dental school, he entered into the Navy where he eventually would become responsible for the entire Navy dental program.
It was in the Navy, that Dr. Smith and Dr. Wright would meet. Both retired from military service in 2005, and headed to Portland to participate in Kaiser Permanente's dental program.

Smith says he is shocked at the level of untreated tooth decay in Portland.
The two men said the decades of research on fluoridation and their experience in dental health has only solidified their support of adding fluoride to the water. They claim opposition to the ballot measure, which has come from groups like Clean Water Portland and the NAACP Portland chapter, misinterpret scientific studies.
To critics who oppose the proposal based on freedom of choice, they ask people to look to the end game costs for medical care, comparing it the requirements to wear a helmet on a motorcycle, "You may not want to wear a helmet and say it's by choice, but if you get injured we could all be paying for that. If you can't take care of your family God-forbid, we're supporting your family." Smith says.
Unconcerned with possible backlash from their public support of the measure, the dentists continue to talk to both supporters and opposition in the community. When asked why they were not afraid, Dr. Wright says, "Because every child deserves a smile."