The Parks have Eyes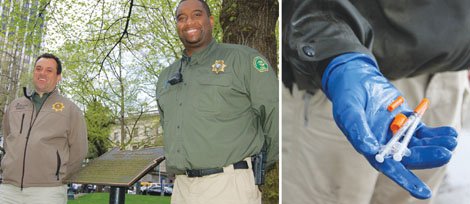 They may wear a badge and uniform, ride through downtown on bikes and hand out stickers to kids, but they're not cops.
Meet the Portland's Park Rangers: eyes and ears of city parks.

While they don't carry a gun and can't arrest you, they do have the authority to kick you out of a park for violating any rule under city code Title 20. But for the most part their intentions are true: to make people feel safe and enjoy their park experience.

Citizens may have noticed an uptick in the number of forest green-clad Park Rangers cruising down city streets and around the Waterfront on mountain bikes.
That's because last spring Portland Parks and Recreation expanded their Park Rangers program from one full-time, year-around ranger, hired in 2010 to patrol Forest Park, to include three more full-time rangers to patrol the city's central business district and downtown's 16 parks.
In addition, PPR has employed 10 seasonal park rangers who cover the more than 275 parks in southwest, southeast, north and northeast Portland.

During winter months, the seasonal rangers are on-call, while in summer they go to work on regular schedules as more people take advantage of the fresh air and green space that comes with warmer weather.
Generally, parks in Portland are pretty safe. You can find the business clad taking lunch in Chapman Square, hikers cruising Forest Park, dog walkers strolling Mount Tabor, mothers pushing baby strollers in Laurelhurst, teens playing ball at Irvington, hipsters blanketing Colonel Summers Park with bikes and hula hoops while toddlers running through Waterfront fountains.
Sometimes, however, danger lurks.
Last summer, the crossfire from two young men who pumped bullets through a family-packed Peninsula Park in north Portland, heightened safety concerns. The suspected gang-related incident gave reason for the city to boost security at community centers. This summer, there will be closer to 20 seasonal parks rangers on patrol, instead of 10.
"Park Rangers are additional eyes and ears for the community and the police," said Hasan Artharee, who worked 14 years in private security before PPR hired him shortly before the Peninsula shooting as the Park Ranger Supervisor.
Because a security camera pointed at the exit of a park bathroom door aided in the arrest of the Peninsula shooters, PPR has also decided to increase the number of security cameras at Portland's community centers from 89 cameras to 140 system-wide.
"Parks can become magnets for predators," said Portland Park Rangers Security Manager Art Hendricks. "We want to make sure we have good measures in place that if an incident were to occur, we could work with the law to apprehend such folks," including sex offenders and vandals.
Since 1997, the city had relied on private security, contracted seasonally, to patrol parks and keep an eye on up to a 1,000 more city owned and operated properties undesignated for public use.

But in 2010, the parks department ditched the private company for their own Park Rangers program. PPR wanted to put a face to their department and make park rangers ambassadors of city parks.