The Parks have Eyes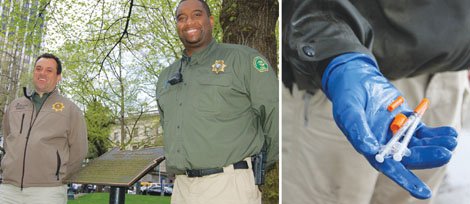 Using existing funds, PPR hired park rangers to not only provide security and enforce city codes, but to build friendlier and more familiar relationships with people in the community.
Diversifying the ranger force was a big part of that said Artharee. "We wanted to get individuals from the community who could interact and build relationships with the people they served."
While all rangers are state certified by the Department of Public Safety, Hendricks said they wanted their rangers to go "above and beyond" providing security, and be able to interact with individuals affected by community-wide issues like the mentally ill and homeless.
Park Rangers train with Oregon State Parks, the Multnomah County Sheriff's Office, and the Portland Police Bureau as well as in the field with youth gang outreach.
"As we increase our role, we've taken a much more active role in working with other public safety partners--not only police, but across jurisdictional lines," said Hendricks.
Park Rangers typically pair off and patrol the 15 to 30 parks in their quadrants, making rounds twice in one shift. Rangers outside downtown rove in vehicles while downtown rangers cruise by bike.
Park Ranger Vicente Harrison, 35, and his patrol partner, Asa Arden, 34, start patrolling at Waterfront Park, making their way to downtown parks like Pettigrove and Lovejoy Fountain, Caruthers and South Waterfront, Gov. Tom McCall Waterfront Park, Ankeny Square and finally the banks of the Vera Katz East Esplanade.

Newly hired seasonal ranger Nico Mcafee, 31, a former pro- cyclist with a bachelor's degree in Criminal Justice from Portland State University, is also along for the ride.
Around 8 a.m. on a drizzly Wednesday morning, the rangers arrive to Waterfront Park to find a man asleep in a sleeping bag—a typical occurrence. The rangers nudge the man, waking him and politely tell him he can't sleep in the park.

If a sleeping bag covers a person's head and body, this is considered camping and a Title 20 violation.
The disgruntled man refuses to move and threatens to go to sleep in the bike lane of Naito Parkway if he can't sleep in the park. The rangers tell him this is an unsafe idea, but he hops across the park in his sleeping bag and lies down in the bike lane.
At this point, Harrison and Arden call the police, as they are not permitted to put their hands on the man. The police show up and deal with the situation, finally persuading the man to remove himself.
"Every day we see something new," said Harrison, who has a bachelor's degree in psychology from Concordia University. But he says he enjoys interacting all of the different personalities he meets daily.
Rangers do carry one weapon: pepper spray, so if a situation out of their control, they call the police.
Referring people to social services is also common. If an intoxicated person needs to be picked up, rangers call CHEERS. For a repeat camper or homeless person, they will notify homeless housing advocate JOIN, while the mentally ill or drug addicted are referred to other mental health or detox services.