The Parks have Eyes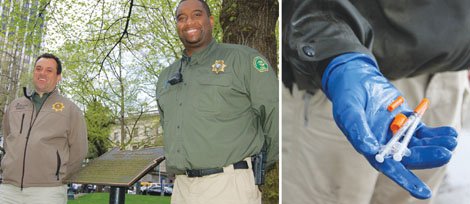 "Serving the less fortunate and guiding them toward resources," is one of the main reasons Ranger Harrison said he loves his job. In addition to serving the public from a protection standpoint, he likes his role as a goodwill ambassador and steward of parks for visitors.
At each park, rangers make their rounds. They are required to engage with people, to see how they're doing, and weed out those who might be acting suspiciously. Trained in special communication techniques like "verbal judo," they approach and converse with the array of people they encounter.

Ranger Arden, who doesn't smoke, keeps a pack of cigarettes in his pocket to offer to someone who might be helpful for information

The technique came in handy last summer when Arden and another ranger stumbled on the camp site of rape suspect Kenneth Wayne Couch, who attacked a woman the day before in Forest Park. Buying time as they notified police, Arden gave the man a cigarette to calm him before authorities arrived for the arrest.
If rangers notice someone violating a park rule, they use what they call "ranger discretion," to decide whether or not the offender deserves a written warning or the worst outcome, a written exclusion from the park for upwards of 30 days.
Portland Park Rangers keep a database of people who have been written warnings or excluded from parks. If a person is caught returning to the area within 30 days, they can be charged with trespassing.
If a person isn't doing anything wrong, rangers record their interaction as a "positive" contact, different from an "educational" contact, where a ranger may inform a visitor unaware of a park rule.
For example, a ranger might let slide a couple sharing a bottle of wine on Valentine's Day, but nail the guy who brings a bottle of malt liquor everyday to the park to drink and pass out.
A person walking their dog without a leash is the most common violation of park rules, with homeless camping violations, drinking, drug use and vandalism making up other more serious concerns.
Arden, who worked for the U.S. Forest Service as a Wilderness Ranger before returning to school at Oregon State University to study Recreation Resource Management, said while dogs off leashes can frighten visitors, it is also an environmental hazard.

According to a pamphlet rangers give visitors, unleashed dogs can trample plants, disturb bird breeding habitats and harass wildlife. And dog poop, which is essentially raw sewage, contains harmful organisms like E. Coli, Leptospira and Roundworms.
Along the Waterfront, Rangers Harrison, Arden and Mcafee ride their bikes down the slick ramp to the docks surrounding Newport Bay Restaurant.
Rangers are required to monitor boats that may be illegally docked outside of the nearby marina. Those outside are deemed "transients" and are only allowed to tie up for four hours in certain areas.
Harrison knocks loudly on a loitering sail boat just outside Newport Bay, "Portland Park Rangers open up!"No response. He knocks again and makes another announcement. No response.