Reflecting on My Growth and the Future
High school graduate ready for next challenge
Kendall Josey | 5/17/2013, 10:01 a.m.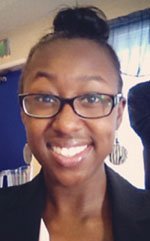 Graduation is right around the corner and it seems surreal.
The excitement is building within me as I look toward new experiences. Although I'm excited to begin the next leg of my education marathon, I will miss and fondly reflect upon the experiences I was able to have in high school.
These past few years, community projects as well as school-related activities have kept me busy and have helped me continue to grow. When I graduate from Fort Vancouver High School, I plan on attending the Florida State University. I'm going to major in hospitality management and minor in performance vocals.
Relocating for college will be another way for me to find myself, but there are things about high school and my environment that I will undoubtedly miss.
Throughout my high school career, I have solidified within me the characteristics of strong leadership, and have had the opportunity to demonstrate these qualities at local businesses, thanks to Deena Pierott, the founder of iUrban Teen Tech.
The program provides underserved youth in Oregon and Washington with the opportunity to learn about careers in technology. iUrban Teen Tech summits allow students ages 13-18 to experience an energetic business networking environment.
Kids who may have never had connections to people who help them cultivate their talents get the unique opportunity to meet professionals in different areas of technology. The technology summits have been held at different college campuses in Oregon and Washington, and I have attended every one.
Ms. Pierott requested my assistance with the promotion and progression of these Tech Summits on different occasions, because she recognized in me the qualities of leadership and ingenuity. This program has opened doors for me in the areas of networking and personal development. I will definitely miss this creative outlet. Since I began volunteering at these events, I have been able to push my own boundaries and make an impact on my peers.
Another big part of high school that I will miss is just having the chance to showcase my talents for my classmates' entertainment without being too harshly judged.
From singing in the True Colors glee club to playing Dorothy in The Wizard of Oz, I have had the opportunity to show people what I love to do in a safe environment. In October of last year, I took on yet another performance role by joining I.D.K. (Infinity Dance Krew), my high school dance team.
Our team, made up of dynamic black, white, Asian, Latina and Pacific Islander girls showed the beauty of diversity in motion! I believe that when young ladies of color saw me displaying my talents in different areas, it instilled in them that they really can do anything their hearts desire.
Besides my family and my church, both of which are huge parts of my life, I will miss my Vancouver community of supporters and friends.
I will cherish the connections I have made and the networks I have been a part of. It hasn't always been easy going, these past four years. There have been struggles, disappointments and losses. However, I have discovered that the challenges are what make each accomplishment worthwhile.
Kendall Josey, 18, is a graduating senior at Fort Vancouver High School.