Career Pathways Gets a Boost
Bank of America invests in PCC job training
5/24/2013, 3:56 p.m.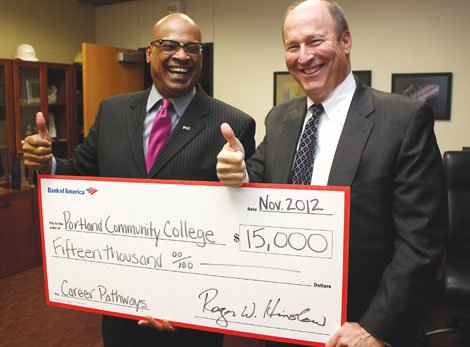 Fifteen more students will now have access to career training thanks to a donation to the Portland Community College Foundation by Bank of America.
A recent $15,000 donation to oversee the dispersal of partial tuition for 15 PCC students pursuing career training, adds to the $50,000 the Bank of America donated last year to fund the education of 40 students pursuing credits in the accounting, administrative, facilities maintenance, and healthcare fields through the Career Pathways Program.
"Bank of America strives to help more Oregonians receive the education they need to secure steady employment," said Roger Hinshaw, Bank of America executive. "Right now, given our slow economic recovery, we are working with community partners like PCC to remove barriers and improve peoples' prospects in entering the workforce. The Career Pathways Program has had a promising start and we're proud to support the impact it's having."
Since the Bank of America stipend started last spring, 19 students have completed their certificate with 11 of them obtaining a job. The remaining participants are still in school.
"This partnership makes it all work," said PCC College President Preston Pulliams.
The Career Pathways Program has been around at PCC for 12 years. Students can earn multiple certificates that lead towards one-year certificates and two-year degrees. There are 35 Career Pathways certificates in career/technical education, or vocational English for Speakers of Other Languages training. The program provides internships for people who might not have much work history or are in a career transition. Plus, it guides students in career planning with employment specialists, learning how to market themselves to employers, network, use social media and practice interviewing via mock interviews.
The Career Pathways program has been a lifesaver for Barbie Cowan, who was awarded a Bank of America stipend last summer. Cowan, who has a high school education, was laid off a year ago as a dining room manager for a local restaurant hit hard by the economic downturn. She entered computer applications certificate classes at PCC and learned about marketing herself, resume building and how to excel at job interviews. A Career Pathways coordinator helped her pick out the right classes and find textbooks.
After completing her first certificate, she continued to take classes to earn a more advanced certificate. As she looks forward to completing her second, Cowan wants to apply what she has learned in the classroom in her upcoming PCC Cooperative Education Internship. She plans to earn an administrative assistant one-year certificate and eventually an associate's degree.