College Planning Starts Early
Big Brothers Big Sisters kids earn savings award
5/29/2013, 4:46 p.m.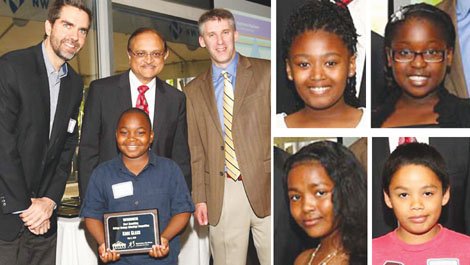 The Oregon College Savings Plan has donated $1,000 college savings accounts to 15 children in the Big Brothers Big Sisters Columbia Northwest program.
The awards were the result of the Start Something College Savings Advantage, a program designed to help Big Brothers Big Sisters kids start thinking about college.
Five of the winners, 5th graders at Vernon Elementary in northeast Portland, are Dorine Cadet, Kobe Glass,
Leonardo Johnson, Alyssia Maxwell and Kae'lyn Wright.
The Start Something competition invited children in grades one through 12 to creatively describe what they hope to achieve after college.
Participants worked with their mentors to submit entries in a number of creative formats, including essays, videos, drawings and books. A panel of judges selected the 15 entries from a pool of 52.
This marked the third year of the Start Something partnership between the Oregon College Savings Plan and big Brothers Big Sisters.