Model School
SEI Academy earns high score on state report card
| 11/6/2013, 12:42 p.m.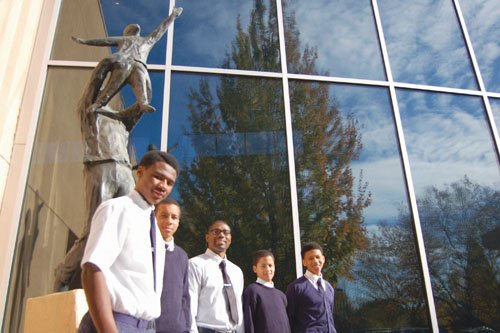 Self Enhancement Academy is taking its bows after the middle school serving local African American kids was named a "model school" by the Oregon Board of Education.
The north Portland school's education coach, Linda Harris, said she felt elation when the scorecard was announced last month.
"I know that the principal and the teachers have worked really hard, especially over the last two years. So for us, it was just a lot of our successes and accomplishments coming to the fore because of all the hard work and diligence that's been put into that process," Harris said.
Self Enhancement, Inc. founder Tony Hopson, the school's president and chief executive officer, said earning the high marks only magnifies what he was long aware of, that African-American kids can excel and compete educationally in a culturally specific learning institution.
In the case of SEI, it boils down to what people at the school call 'the right who'.
"In this particular case, you've got the appropriate leadership," Hopson said. "You've got the appropriate education coach, who has years of experience that she can share. And you've got teachers who are committed and dedicated to kids who don't have low expectations, but have high expectations."
One of the major components for SEI Academy, a charter school operated with oversight from the Portland School District, is the school's attention to children and families outside of the traditional school setting. SEI takes a "big picture" approach to learning, for example, by linking itself with social services and parent coordinators who follow students home to evaluate the quality of their living conditions.
Hopson said the school "looks at the challenges that many of our kids show up to school with, the environment that they come from, whether or not they have parents that ever went to school, or had bad experiences, or are from single parent households. You know, all of those ills in society that can impact many of our kids."
SEI reports that a staggering 70 percent of its incoming students come to the school testing drastically behind grade level, the very students most likely to later drop out of high school if there is no intervention.
SEI Academy Principal Andre Goodlow said that all of his instructors adopt a village mentality, and are committed to putting in the hours to develop a good curriculum and key programs like summer school. He credits the commitment of teachers as crucial to the fact that over 98 percent of SEI kids graduate on time, with 85 percent going on to college.
Harris said that the school's model has long been successful. In 2010 when she and others from the academy went before the Board of Education to renew their charter, she says its students were outscoring other African-American students in the state in the subjects of reading, writing, and science. This year alone, she said, SEI 8th grade boys were even outscoring their peers in mathematics.
Hopson said he only hopes that more people will take heed to the work SEI does, especially considering the odds stacked against the vast majority of its students from underserved populations in north and northeast Portland.
He said the 9-year-old academy has proven itself during its short tenure as a uniquely positive force for African-American students, and said it is time for more financial support for the school.
"Now when we look at the amount of kids that we service, and the amount of money that we're getting both from Portland Public Schools and state government, we're very underfunded…by a long shot."
"When you're looking at what we call the 'misery index,' which talks about education, healthcare, and the criminal justice system, black folks are at the bottom of it. And if you're looking at the equity lens that the state, Portland Public Schools and the county are using now, it says we're trying to close the disparity between races. Because that's what we do. And our stats are clear in our abilities to get this done," he said.
--Donovan M. Smith