Decorated Veteran
Michelle Watson excels as career military leader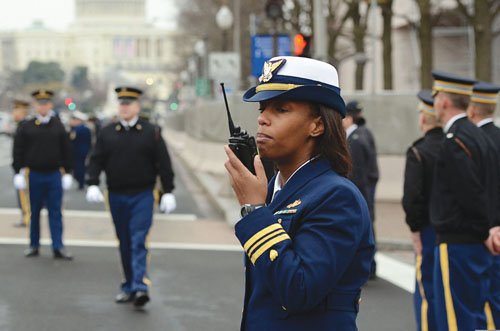 It's been a long and rewarding journey from Harriet Tubman School in Portland to a distinguished career in the U.S. Coast Guard for Michelle Watson.
The former Portland and Vancouver area resident has just finished a year in which she met President Obama and the First Lady; was promoted as the first African-American woman commander of a Coast Guard security unit in Virginia; and served as a deputy commander in security for the president's second inauguration in Washington, D.C., last January.
Watson, 40, made Coast Guard history last month when she was put in charge of the U.S. Coast Guard Reserve Port Security Unit 305 at Ft. Eustis, Va. As commander, she is the first African-American woman to oversee the 172-member expeditionary unit which provides waterside protection to key assets and supports military and humanitarian operations worldwide.
She credited the mentorship and support she has received of her Coast Guard colleagues, along with the support of family and friends for her long record of success in the military.
"It's been a lot of luck really, being in the right place at the right time," Watson told the Portland Observer on Veterans Day Monday. Her parents, Dorothy and Michael Watson Sr., and a sister, still live in Vancouver.
In a time honored military tradition called the Change of Command, Watson was formally and symbolically handed authority over the Ft. Eustis operation on Oct. 19. As practiced today within the Coast Guard, the change of command is a transfer of total responsibility, authority, and accountability from one individual to another.
During a July Fourth ceremony at the White House last year, she met President Barack Obama who recognized her for being one of the first American-American women to graduate from the Coast Guard Academy. He also spoke of her exceptional service during Operation Enduring Freedom. Watson earned her military degree in government in 1996 after moving from Portland where she attended Tubman and other elementary schools.
She said meeting the president and first lady was exhilarating, even though it came during a period of exhaustion for her personally, less than 48 hours after she arrived in the United States from an assignment in Kuwait where the temperature was 140 degrees. She said they discussed the connections they had to Chicago where she and the first family also lived.
Watson's 17 year military career has included a variety of operational and staff assignments that have taken her across the country.
She has been recalled to active duty on four occasions, including the Sept. 11, 2001 terrorist attacks over New York City, Washington, D.C. and Pennsylvania; Operation Enduring Freedom; Operation Iraqi Freedom; and the Deepwater Horizon Oil Spill.
As a civilian, she has held various positions within the manufacturing and logistics communities and is currently employed with Office Depot Corporate Headquarters in Boca Raton, Fla. as a senior manager for Supply Chain Operations Support for all of North America, including the Dominican Republic.

Some of her personal awards include Joint Commendation Medal, Army Commendation Medal, the Coast Guard Commendation Medal, four Coast Guard Achievement Medals, and two Coast Guard Letters of Commendation Awards.
--Michael Leighton with contributions from Donovan M. Smith