Surviving Hell
Tuskegee Airman recalls horrors of World War II
| 11/13/2013, 12:24 p.m.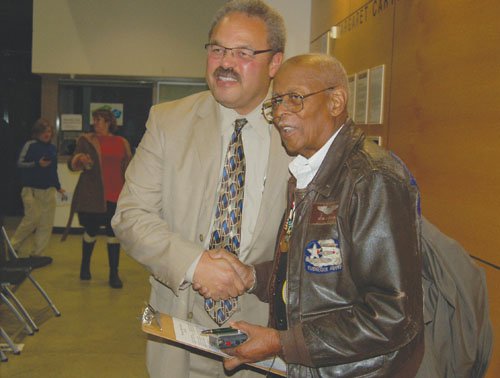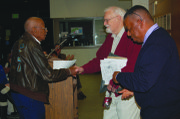 "War is hell," that was the constant reframe from Alexander Jefferson, one of the last living members of the historic all-black military air-squad, the Tuskegee Airmen. During a veterans forum at Portland Community College's Cascade Campus in north Portland, Jefferson shared his World War II accounts of seeing heaps of human bodies set aflame, friends being torn away by gunfire before his eyes, and even becoming a prison of war where worms and sawdust were not an uncommon part of his diet.
Jefferson, 92, also shared his thoughts on civil rights and serving a county that was divided along racial lines during the war, and where he was treated as a second rate citizen due to his skin color, even as he put his life on the line for the nation daily. Still, he manages to hail the United States of America as "the greatest country in the world."
The great grandson of an enslaved man, Jefferson was born in Detroit on Nov. 15, 1921. By the time World War II was beginning to engulf the world he had earned his Bachelor's degree in science from the highly regarded historically black institution Clark College in Atlanta and a Masters in education from Wayne State University in his hometown.
Despite an impressive educational background, Jefferson would enroll into the U. S. Army Reserve in 1942. When asked by an audience member at Thursday's forum why he make such a choice, knowing the turmoil of the time, he says, "I got news for you, there was a war going on. Everybody [was] in the Army, Navy, and Marines. And if I were drafted as black man, I'd go to the quarter residences; heavy, nasty, filthy, dirty work."
Instead, Jefferson took up the opportunity to become a pilot in the Tuskegee regiment, becoming a second in command to the men in his squad, and becoming a self proclaimed ladies-man in the process.
He fought for a country that had only recently allowed white women to vote, and the value of black life was systematically often made dispensable; his skin remained a barrier for him in service.
He recalled one time where he and his black brigade were fraternizing with other white soldiers at a safe haven for Americans in the middle of the warzone. Jefferson says a low-ranking white general walked into the quarters and stated "Gentleman this is my airfield. As long as I'm in command there will be no socialization between white and colored officers."
Though his daily heroism continued to be overshadowed by his color, Jefferson like so many other black soldiers in World War II carried on.
It would be on his 19th mission that the horrors of war would become much more real to the gold bar Lieutenant Colonel.
Flying over skies of France and charged with taking down a group of German soldiers, his fighter bomber was hit by gunfire and began nose diving toward the ground. He was forced to eject himself from a plane that would have almost certainly killed him in a fiery fashion as it hit the ground.