Surviving Hell
Tuskegee Airman recalls horrors of World War II
| 11/13/2013, 12:24 p.m.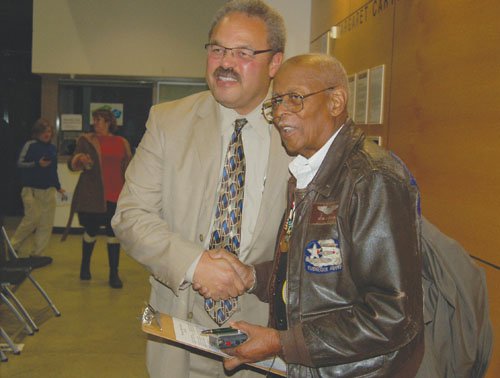 He says it was his first time ever being underneath the wind of parachute, something his trainers had ever prepared him for. Almost fittingly for someone who was suspended at 15,000 feet in the sky amongst warplanes for the first time, Jefferson found himself landing inside the branches of a tree.

He was immediately detained by Nazi officers and made a prisoner of war. For months he and other captives lived in hellish conditions and forced to eat bread he says was primarily filled with sawdust and soup that included worms.
Sometime later he and others would be freed by American troops and sent back home. Upon reaching New York City shores he recalls reaching an unlikely welcome with being told "whites to the left, niggers to the right."
Despite his country's continued undermining of his humanity, Jefferson became a high school teacher and worked to build America up by being an active citizen. He encouraged the young people at the PCC event, which was co-sponsored by the Portland chapter of the National Association for Black Veterans, to "join the system."
"I don't know, we've gotta overcome the knuckleheads," he says. "Tell kids, you've gotta learn English, math, science and join the system. America needs young people with brains."
He recalled Jackie Robinson, the first black major leaguer who broke the color barrier in baseball.
"He could not play baseball in the American League or the National League. He's was out of the system. But once he got inside of the system, he could break hell out of it. We live in a system."
--Donovan M. Smith