Driving a Social Agenda at the Bus Project
New executive for youth advocacy group
| 11/20/2013, 11:29 a.m.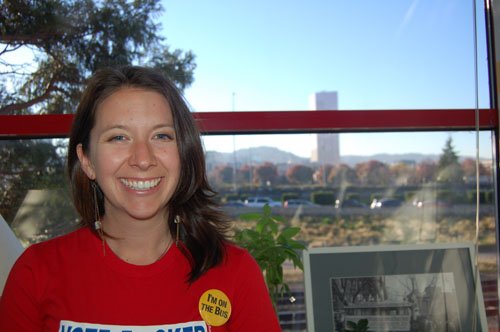 There's a new driver at the Bus, well at least a new leader. The social justice and activist group, the Bus Project, recently named Tara Sulzen as their new executive director.
"I think at its core the Bus is a leadership development program. It gives young leaders the tools they need to make change," Sulzen says.
The non-partisan and non-profit organization, founded in 2002, organizes young people across the state to engage in voting, volunteering, and campaigning around issues young people care about like prison reform, tuition equity, and voter access.
Sulzen, 28, was once a summer fellow with The Bus Project's feature program Politicorps, which equips young folks with hands-on experience around grassroots organizing. She then went on to become outreach director for the land use organization 1000 Friends of Oregon.
Sulzen hopes to build on and continue group's commitment to issues around social justice, something she thinks is only enhanced with an increasingly diverse and socially aware generation.
"The millennial generation is more diverse than any generation of the past," she says. "The work of the Bus is only possible by strengthening our existing relationships with organizations rooted in communities of color, like the Urban League of Portland and Causa (Oregon's migrant rights organization), and making sure we don't stray from our original mission of justice for all people."
For more information, visit The Bus Project website busproject.org.
--Donovan M. Smith