Honoring History
Dawson Park renovations begin
11/20/2013, 11:41 a.m.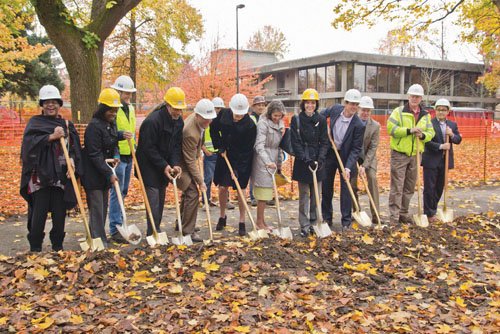 Members of the Portland community gathered at Dawson Park on Thursday to celebrate the start of construction to restore the park as a key community gathering space while honoring its rich African-American history.
The $2.6 million renovation project will make the park more welcoming and attractive, with an improved playground, interactive water play feature, barbeques, picnic tables and benches, and better lighting and accessibility.
Dawson Park, located between North Vancouver and Williams avenues and Stanton and Morris streets, has served as an integral social, political and economic center for many communities – most notably, Portland's African-American community.
The neighborhood around Dawson once was the heart of Portland's African-American population, and the new park design will recognize that heritage with double-sided cast-stone medallions designed by artist Isaka Shamsud-Din to be placed in a decorative fence surrounding the playground. One side will be inspired by traditional African Ndebele patterns; the other side will contain historic neighborhood remembrances.
"Dawson Park is more than just a park—it's a symbol of this neighborhood, North-Northeast Portland and our constant vision for a better city. These improvements are truly community-driven and we are honored to play a role in the revitalization of this community asset," said Patrick Quinton, Portland Development Commission executive director.
Also lending his support for the project was Michael Alexander, president and chief executive officer of the Urban League of Portland.
"It is gratifying to see the beginning of dramatic and tangible park improvements," he said. "It is important to deeply understand the history here, while still focusing on the future. We look forward to a tremendous new park and appreciate the commitment by the city and its partners to increase the quality of life here."
City Parks Commissioner Amanda Fritiz called Dawson Park a widely treasured public asset with a deep history.
"What we are doing today is about making more history. I am thrilled that Dawson Park is being re-energized, and proud to see our city working to make it a vibrant part of the community once again," Fritz said.
"Legacy Emanuel was founded more than 100 years ago just across the street from Dawson Park, on the concept of caring for the people in this neighborhood," said Dr. Lori Morgan, the hospital's chief administrative officer. "We are proud to have contributed to Dawson Park's new water play feature where children and adults alike can appreciate the outdoors and be active. Our staff, patients and their families are looking forward to enjoying Dawson Park once again."
The project is a partnership between the PDC and Portland Parks & Recreation. The Interstate Corridor Urban Renewal Area will provide $2.3 million in funding.
Support for the public artwork comes from the Regional Arts & Culture Council. R&R General Contractors has been selected to construct the park improvements with 87 percent of the construction work to be performed by minority, women and emerging small business-certified contractors.
Construction is expected to run through June.