Free Land Deal
PDC defends controversial project
| 11/27/2013, 9:50 a.m.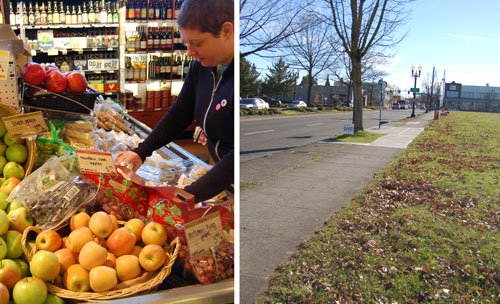 "The rich will continue to get richer, the desired population will continue move in to northeast Portland, and black residents will continue to be forced out." Gilliam wrote. "While the mechanisms of gentrification are complicated the basic idea is not. Wealthy and politically powerful interests want inner-city land because it makes them money. In our recent history poor black residents have been located on some of this land. Interests have used their power and influence over our government to take the land that poor black people once held for their personal profit."
In an interview with The Portland Observer, PDC Director of Business and Social Equity John Jackley acknowledges that PDC-sponsored developments have been followed by gentrification in north and northeast Portland, but stands firm that the Trader Joe's development will not be responsible for further displacement.
Jackley said the latest proposed $8 million retail development is not one of those instances. In fact, he declares that it will assist in keeping more traditional King residents in the neighborhood.
"I think Steve Gilliam is exactly right in describing gentrification and displacement as the primary issue in north and northeast Portland. I don't agree with his assessment on the project," Jackley said.
He said no single family homes on the proposed site's Garfield Street border were displaced by Vanport Square and no-one will be displaced by the current development.
"When we look at the particulars of Trader Joe's, at the demographics of the community, at how much lower prices they are than Whole Foods and New Seasons I think it continues to the community prospering in place," he said.
According to PDC's assessment, the construction of the Trader Joe's will also inject $1.9 million of annual payroll dollars into the community.
When asked why there was not something of this or a similar magnitude being considered past 82nd Avenue in east Portland where many former north and northeast residents have been pushed to, and where recent numbers show the highest concentration of food deserts exist, Jackley said there are such efforts and points to the agency's Neighborhood Prosperity Districts.
He said PDC has tried for a number of years and will continue to work to locate a grocery in the Lents and Parkrose neighborhoods of outer northeast and southeast Portland, including an anchor grocer like Trader Joe's.
"If people are forced out or move out of their homes it won't be because there was an affordable grocer in the neighborhood," Jackley said.
The marketing director at locally owned and operated Alberta Co-Op says the PDC's justification for the project feels disingenuous with newer grocery markets appearing in and within the vicinity of the neighborhood since they set up their own grocery on Northeast 15th Avenue and Alberta 12 years ago.
"At that time it was a very different type of place than it is now, there's been a lot of movement towards building these types of infrastructures and businesses moving in," said the co-op's Theresa Calabrese.
PDC said it was keeping the community involved throughout the process that led to Trader Joe's, but that didn't satisfy the co-op, which received no word on such a deal until it was finalized and came before the King Neighborhood Association.
"It's disappointing, because we and other organizations have been doing a lot of great work on the food justice level for a very long time," Calabrese said.
"It was just kind of a secretive deal that happened. We've worked with PDC in the past, they gave us some loans when we first opened and we paid back the loans on-time, plus the interest. We were never consulted, and nobody approached us about this opportunity. I mean the land was sold for $500,000 which is something that's within reach for a lot of people in this community," she said.
---Donovan M. Smith