King Neighborhood Firehouse Demolished
Historic resource not protected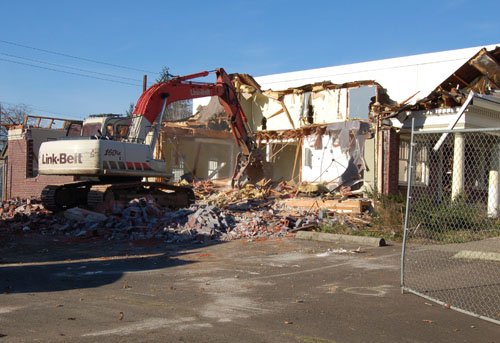 A former Portland Fire Station in the King Neighborhood that had been used as commercial office space in recent decades was demolished by a wrecking crew on Friday.
Constructed in 1924 as Chemical Engine Station #14, the building on the west side of Martin Luther King Jr. Boulevard just south of Alberta Street, was listed in Portland's inventory of historic resources, but was not protected as a historic landmark, said officials with the city's Bureau of Development Services.
The fire station was originally designed by former Fire Chief Lee G. Holden in a manner that was similar to other fire houses he had built in the city at the time with its Colonial style, portico, and Tuscan columns, officials said.
No details were available on what will be developed on the property site. Calls to the demolition applicant, listed in public records as Concord Associates and North Neighborhood, two limited liability corporations, with James Adamson named as owner, were not returned.