Life is 2Real
Promoter on cutting edge of rap scene
| 10/2/2013, 11:33 a.m.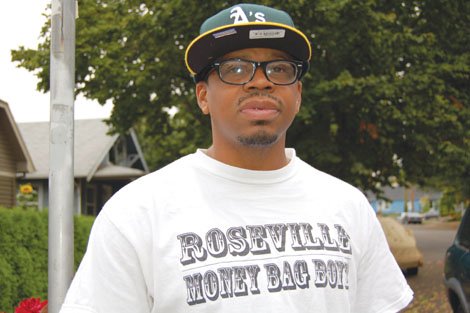 Unfortunately not many can claim a successful transition from the harsh realities of a notorious gangbanging past to true entrepreneurship. Jonathan Norman, also known as Big Smurf, a.k.a. Smurf Lucciano, is one of the exceptions.
An athletic and sociable kid, Norman was well liked and known by his classmates at Whitaker Middle School and Lincoln High School where he lettered in four sports. If he wasn't throwing the party, he was getting down on the dance floor, poppin' and lockin'. It was the 1980s of course. But there was another part of Norman's life that began to engulf him completely.
Around this time, gangs began to become a part of his every-day life in north and northeast Portland where he and many other minorities called home. By the time he was 17, he had already been gunned down just blocks from his home in front of Humboldt Elementary. The gunfire was one of the earliest documented school shootings in the nation's history. Nearly a year later Norman, then known as 'Big Smurf' to folks in the neighborhood and an ever-vigilant police squad, would be jailed on charges he would later be acquitted for.
"That kind of set the mark for me, those two incidents, for me to try to do the right things," he says. Even so he would end up behind bars again just two years later. It was here where Norman would decide to become the catalyst for his own destiny. He drew up a plan for his own record company while still in a prison cell.
Once out, he began to put his bid into the budding Portland rap scene. He put together a group called Gangsters on the Move and released two records.
But the flow towards business was damned again as he was brought up on racketeering charges due to his gang membership. He was facing 30-years-to life. He would then meet what would become his flagship artist, Mark Miles, now known as "Meezilini" and signed him to his label "2 Real Records."
Norman and Meezilini were both released from prison during the tail-end of the 1990s. Johnson released Meezilini's first album "Voice of the Streets" gaining him local radio-play and fanfare. Since then, the imprint has released several other records that have afforded him the opportunity to travel across the country for stage shows and do work with hip-hop heavyweights including, J-Stalin, E-40, Snoop Dogg, and 50 Cent. Currently the two are booking tours throughout the states promoting Meezilini's latest mixtape "Inked Up & Iced Out" while gearing fans up for a joint album with Bay Area recording artist Rydah J Klyde, entitled "Rat Poison".
Now 41, the owner of a promotion label called Roseville Money Bag Boyz and a multimedia brand called PirateSide, Norman hopes that he can parlay the tells of the tragedies and successes of Portland's often obscured urban realities across different platforms.
"We've kind of been able to speak for our experiences being part of the three percent black in Oregon and what it's like coming out of our neighborhoods," he says. "Just letting the world to see where we come from and how we got the same pains and struggles that the big cities are going through."
When it comes to his past, Johnson does not shy away from the realities that made him. He does, however, have this to say, "As far as a color, as far as a red or a blue, or anything that got to do with a gang, I'm so far past that, with just maturity that it all comes down to unity and it comes down to everyone looking out for everyone."