'Sneakerhead' Turns Love into a Brand
Portland entrepreneur starts own fashion line
| 10/3/2013, 10:56 a.m.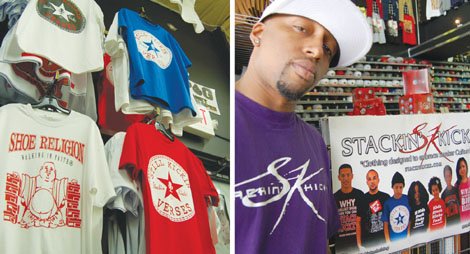 Setting foot in the city of sin turned out to be the start of a dream for one Portland man. A 2009 visit to Las Vegas for a street wear fashion tradeshow shifted David Jefferson's whole career path.
Jefferson says the show was the inspiration he needed to take him from being a local retailer of various big name brands in urban fashion to his newfound passion, selling his own clothes.
It wasn't long after he returned to the Rose City that he launched his own brand called Mr. Exclusive. He took the name from his nickname, but the clothing line failed almost as soon as it started.
"I wasn't really all the way serious the first time around. And like—I didn't know what I was doing you know what I'm saying. So it made it tough to get support. I think I was being a little bit selfish with the whole idea and the name of it," he says.
Never losing sight of running a successful clothing brand, Jefferson started again from the bottom and re-launched his clothing wear as a completely new brand called Stackin' Kickz. The products are sold at Top to Bottom and other Portland stores.
Though it may sound like a shoe brand, do not be deceived. The clothing comes more as homage to the so-called "sneakerhead" culture. Jefferson considers himself a sneakerhead himself, and it's a pretty deserving title when you consider that at owning 150 pairs of shoes he considers himself running low on footwear.
"I'm just living with a bunch of shoes in my house, they need to be payin' their own rent," he jokes.
Stackin' Kickz has gone on to become one of the most recognized brands coming out of Portland. With an inventory that consists of t-shirts, pullovers, and hats, Jefferson aims to make clothing that stays true to his shoe-loving roots with a universal appeal. He even manufactures clothes specifically targeted to women and children.
"I don't really know when it all happened, I just know it seems like a lot of people know about Stackin' Kickz now. And they're buyin' 'em and they wearin' 'em and like a lot of 'em have no idea who I am, a lot of 'em don't even know it's a local brand you know what I'm saying. So it's been a blessing man."
To purchase Stackin' Kickz apparel and find out more about the brand, visit stackinkickz.com.