A Strong Force in Portland's Housing Market
Real estate team excels after humble beginnings
10/3/2013, 11:02 a.m.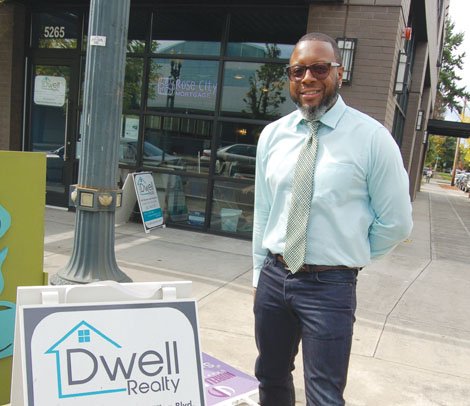 Real estate team Chris Guinn III and Tracey Hicks started Dwell Realty in Portland from humble beginnings.
The two began working together in 2005 racking up an impressive record of sales in the housing marketplace before starting their own independent real estate business in 2009.
It was not a prime year to be in the real-estate business, especially not independently, as the nation's financial and housing markets began to crumble.

Because of this, Dwell Realty's first offices were out of their respective basements.
In October 2010, they took a risk. With some help from a Portland Development Commission grant, support from Rose City Mortgage, and their own savings, Dwell Realty set up shop at its present location on 5265 N.E. Martin Luther King Jr. Blvd. in the Vanport Square Plaza.
Suddenly the two-person team found themselves with cozy new office space but missing a key other component, employees. Despite this dilemma they say they held onto the mantra "if we build it, they will come"; and they did indeed come.

With a slow and methodical approach Guinn and Hicks built a company on the concept of slow, selective and organic growth. It paid off too, because they now have a total of 10 real estate agents and an office manager on staff.
The company continues to expand. In 2011, Dwell Realty began to offer property management services and now manages nearly 100 doors in the Portland metro area.
Since the expansion they are reporting a record year in real estate sales. Their current crop of agents include Mark Borgeson, Torrey Nelson, Christy Marshall, Daniela Sardo, Eric Holmes, Melissa Peake, Hilary Cambron and Charles Fowlke and office coordinator/manager Kiely Johnson.
Guinn says that one of his and partner's main goals was to make Dwell Realty a part of the community they grew up in and love so much.
Each Last Thursday around 6 p.m., they invite everyone to join them in the monthly celebration as appreciation to their clients, colleagues and community. This event always features the work of a local artist, local vendors, good food and wine, all free of charge.
Dwell Realty also offers its office space at a very modest rate to locals who need a nice venue for small gatherings or meetings.

Dwell Realty is now a fixture in our community and plans are to grow while remaining grounded and connected to the Portland community.
For more information, visit Dwell Realty's website at dwellrealtypdx.com or their Facebook page facebook.com/dwelling.